Verizon LTE network running 80 Mbps discovered in New York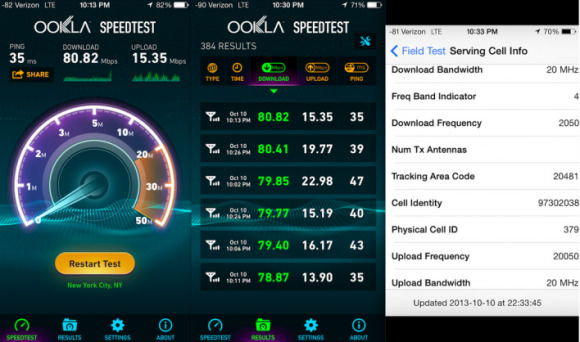 Most mobile network users are always after more speed when it comes to data. The faster the network, the faster you can download large files and the smoother streaming video and other services operate. Verizon Wireless is working on a new LTE network that it hopes will be able to take the claim of nations fastest network away from AT&T.
It appears that Verizon is currently testing this faster LTE network in New York City even though it hasn't been officially launched. Verizon users in New York have spotted an impressively fast 80 Mbps LTE network operating in several locations around New York City. The person who discovered the network operating in New York is named Milan Milanovic and his handy spectrum analyzer shows that the LTE network is operating in the 2.1 GHz Advanced Wireless Services band.
The service is also registering on smartphone supporting 4G connectivity in that bandwidth. Milanovic was reportedly able to get his Verizon iPhone 5S to connect to the faster LTE network. The screenshots above confirm the speedy network offers around 80 Mbps of download speed and upload speeds went as high as 22.98 Mbps.
It looks like Verizon is finally putting all that spectrum it purchased from cable operators last year to use with the new LTE network operating on 40 MHz of spectrum. It's also worth noting the disclaimer that the network isn't officially launched and presumably has no or very few users. These high speeds aren't necessarily reflective of what the network would see with hordes of users on it at the same time after a commercial launch. Rumors also indicated similar networks are being tested in Chicago and Los Angeles, but no confirmation has been made on those networks.
SOURCE: Gigaom