Verizon iPhone 4 Review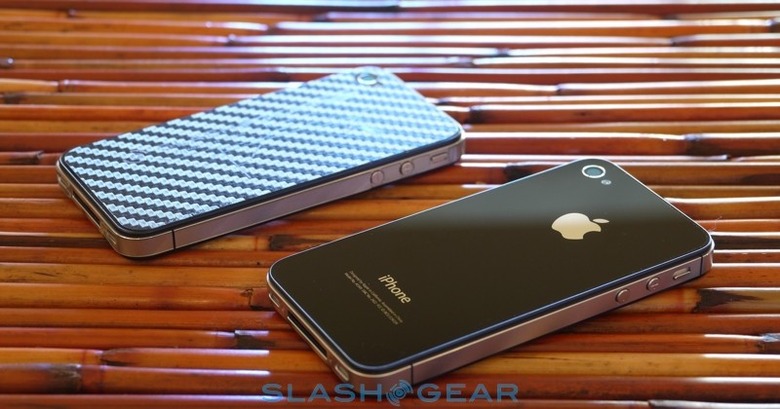 If the original iPhone was the most anticipated cellphone of its time, then the Verizon iPhone 4 has to be the most demanded variant since the first launch back in 2007. A launch rumor that managed to overshadow CES 2011 despite Apple having not a square foot of presence there, for many the Verizon iPhone 4 finally promises the network strength to back up the iOS platform's abilities. Does the CDMA smartphone live up to expectations? Check out the full SlashGear review after the cut.
Hardware
The Verizon iPhone 4 may be a new model, but outwardly it's almost identical to the AT&T version announced back in June 2010. That means the same 4.54 x 2.309 x 0.37 inch glass and metal chassis, a slimline slither of premium-feel hardware held together with a band of metal that doubles as the smartphone's antenna (now with four sections rather than the original's three). Physical controls are limited to a home button, a power/lock button on the top edge next to a 3.5mm headphones socket, a pair of volume buttons on the left hand side, and a ringer mute switch that has shifted down just slightly. On the bottom edge is the regular Apple dock connector.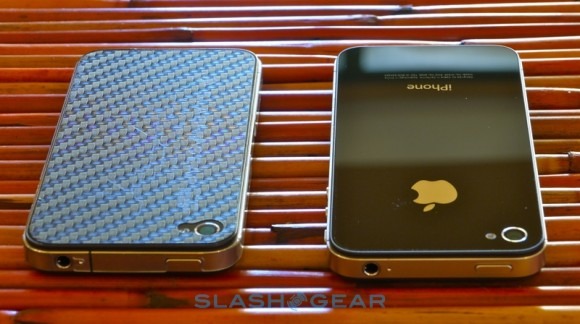 Up front is Apple's brilliant Retina Display, a 3.5-inch 960 x 640 IPS TFT LCD panel with a much-vaunted 800:1 contrast ratio, covered with oleophobically-treated glass. It remains the highest-resolution panel of its size on US smartphone, with the same crispness of text and clarity of color, as I'm familiar with from the AT&T iPhone 4. In fact, the general hardware experience of this Verizon version is near identical to its sibling: same 5-megapixel rear camera with 720p HD video capture, same WiFi b/g/n and Bluetooth 2.1+EDR, same choice of 16GB of 32GB of flash storage inside.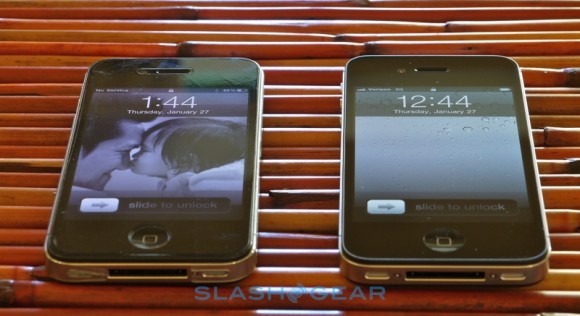 The processor, too, is the same: the 1GHz Apple A4 as also found in the iPad, paired with PowerVR SGX 535 graphics. It's a single-core chip in a market where I'm beginning to see Android devices promise dual-core, but it's also important to note that there's more to performance than how many cores you've got on hand. That comes down to iOS, after all.
Verizon CDMA vs AT&T GSM
Demand for the Verizon version of the iPhone generally comes down to one thing: dissatisfaction with AT&T's network. Ever since Apple and AT&T signed their exclusivity agreement, the GSM carrier has struggled with iPhone load. Dropped calls and sluggish data connections have both been blamed on AT&T, marring the overall experience for many iPhone users. Several of the SlashGear team have abandoned the iPhone and crossed over to rival carriers – and, invariably, Android handsets – out of frustration, and they're not alone.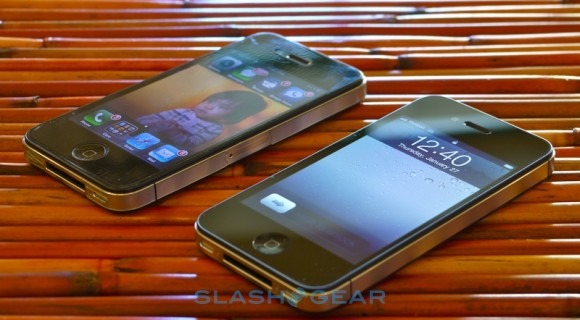 To those users, a CDMA iPhone promises access to Verizon's much-vaunted network, with its reputation for reliability and speed. Although AT&T argues it has boosted performance across the US – and indeed some GSM iPhone owners have no problems whatsoever with their handsets – the CDMA version is still seen by many as the magic bullet for their coverage woes.
The design of the iPhone 4 means there are compromises along with benefits this Verizon version brings, however. Apple opted not to include a 4G modem for use with Verizon's LTE network because of the size constraints of the first-generation chipsets; it seems likely that those same constraints are the reason that the Verizon iPhone 4 is not a so-called World Phone with both CDMA and GSM connectivity. That means international travelers won't be able to use the Verizon iPhone 4 in most countries outside of North America, where GSM is the prevalent standard. As a workaround, Verizon offers a loan program for travelers; you get free use of a handset (not, though, an iPhone 4) and only pay for service while abroad, all the time receiving calls on your regular number.
Another limitation of the CDMA version is its inability to do simultaneous voice calls and cellular data. Like the majority of Verizon's handsets, receiving a call will automatically shut down an active data connection, meaning you can't surf over the Verizon network – or check Twitter, or post on Facebook, or anything else that requires a mobile data connection – while you're on that call. However, the smartphone can maintain a WiFi connection during voice calls.
Finally, for those crossing over from the AT&T iPhone 4, the slightly repositioned ringer mute switch on the Verizon version may mean that tight fitting cases such as "bumpers" no longer fit. Apple's official bumper has been updated to suit both variants, but if you plan on using your existing cases then you might find things don't quite line up.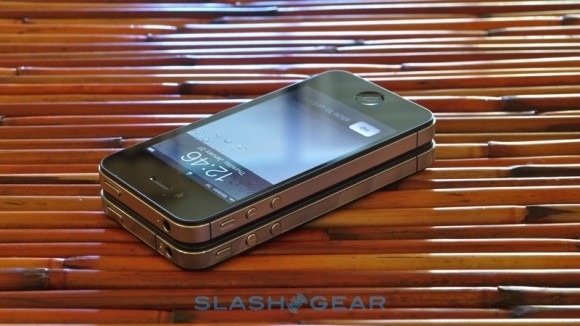 Less clear is how the Verizon model will impact Apple's upgrade cycle for the iPhone, which has settled into a yearly refresh. It's still six months away from the predicted "iPhone 5", assuming Apple keeps to form, but whether that will be a GSM-only model (with a CDMA version to follow) or, perhaps more unlikely, a refresh of both the CDMA and GSM handsets simultaneously is unclear. Alternatively, Apple might delay the cycle altogether, giving the Verizon model more time to flourish.
As with any mobile device, I'd always recommend buying a handset because it does what you need it to today, not because of what's believed to be coming later. It's the nature of the industry that today's new handsets are superseded tomorrow; there's no global "right time" to buy a device. If, like many on the SlashGear team – and many thousands of other would-be users – the iPhone 4's functionality caters to your needs, but the AT&T network doesn't, then the Verizon version addresses that.
Software
The iPhone 4 originally launched running iOS 4.0, a significant update to the platform that added multitasking support along with background processes, conversation views in the messaging apps, homescreen folders and other improvements. Incremental updates since than have brought us to iOS 4.2.1 on the GSM version, though the CDMA model will launch with iOS 4.2.6 with some small UI changes and the Personal Hotspot feature in the settings. You still get the AirPlay wireless audio streaming and AirPrint wireless printer functionality of iOS 4.2, along with Game Center access and HDR photography from iOS 4.1.
Migrating from an AT&T iPhone 4 to the Verizon version was as straightforward as upgrading from a 3GS had been. I plugged the CDMA iPhone into iTunes and all our music, videos, apps and other data was automatically carried across. From there it was iOS as usual, and while the iPhone 4 may not have a dual-core processor, it's tough finding a place to fault the smoothness of the overall experience. Apple's multitasking methods – which freeze a snapshot of each running app, leaving only certain core APIs still running – still prompt arguments over whether it's "true multitasking" or otherwise, but the end result is a system that seldom feels sluggish and allows you to quickly pick up where you left off moving between apps.
The only significant difference in software is the Personal Hotspot feature, which allows users to turn the iPhone 4 into a MiFi-style mobile hotspot. Up to five WiFi-connected clients can access the smartphone's EVDO Rev.A data connection at any one time, though it's worth noting that Verizon will charge extra for tethering use. To save battery power, the Personal Hotspot automatically powers down after five minutes of inactivity or no connections.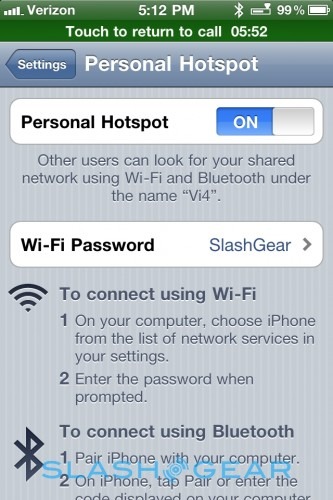 Performance
All the changes and the migration polish would be for nothing if the user experience of the Verizon iPhone 4 underwhelmed, but happily I've been very impressed with the CDMA smartphone's performance. In the week I've been testing the phone I've not experienced a single dropped call, and voice quality has been amazing both for me and those on the other end of the call.
Data speeds are solid, though not the best I've seen; having experienced what Verizon's LTE network is capable of I do find myself wishing Apple had found some way to fit in the necessary chipset. Still, the carrier's 4G network is still very much a work-in-progress, and most would-be Verizon iPhone 4 users aren't in areas with 4G coverage anyway. I've experienced higher on AT&T's iPhone 4, but what the GSM experience lacks is Verizon's consistency: the AT&T version has multiple high and low peaks of data performance, depending on your location, whereas my multiple Speedtests in different places have shown that the EVDO Rev.A is far more stable.
As for the voice/data switchover, I found the iPhone 4 immediately picked up its 3G data connection after the voice call was completed. Individual experiences may vary, but I found the limitation didn't particularly impinge on my daily use. The one exception was with the mobile hotspot functionality, where an unexpected call can momentarily stop the data pipe you're sharing with a laptop or tablet. Reconnection is automatic, but if you've been using it to upload a file then it can be frustrating to have to start the process again. I'd like to see Apple add some sort of automatic call rejection toggle in the settings to prioritize the data link.
Battery life for the CDMA model is quoted as the same as the GSM model: up to 7hrs talktime, up to 300hrs standby, 6hrs of cellular browsing or 10hrs of WiFi browsing. In practice, with push email turned on I managed a day's use out of the Verizon iPhone; that fell, unsurprisingly, when I also ran a push-based IM client and made more use of the browser over 3G. There are plenty of external battery options for the iPhone, though as with bumper cases it's worth checking to see if they're designed to suit the slightly moved ringer switch.
Pricing
Verizon will be charging the same as AT&T for new iPhone 4 agreements, with the 16GB version coming in at $199 and the 32GB version at $299, each with a two-year contract and mandatory voice and data plans. Existing subscribers will get the first opportunity to buy, from Thursday February 3, with general sales from February 10, one week later.
Three voice plans will be available, at $39.99/mo for 450 minutes, $59.99/mo for 900 minutes (and unlimited calls to five people on any network), and $69.99/mo for nationwide unlimited calls. Meanwhile two data plans are offered, $29.99/mo for unlimited data or $49.99/mo for adding in 2GB of mobile hotspot data; each additional GB of mobile hotspot data is charged at $20.
Finally there are four messaging plans, either pay-per-use (at 20 cents a text or 25 cents for a picture/video message), 250 messages for $5/mo, 500 for $10/mo (and unlimited to other Verizon customers), or completely unlimited for $20. Verizon has previously suggested that unlimited data will be a promotion rather than the norm, though I don't know how long it might be before on-device data caps are introduced.
In contrast, AT&T has two data plans, both cheaper than Verizon's but neither offering unlimited access. Instead, $15 gets you 200MB and $25 gets you 2GB. Voice and messaging plans are roughly comparable.
Wrap-Up
A device is only as good as its weakest link, and for many iPhone users that link has been AT&T. Although there are plenty of satisfied users getting the best from their iPhones on the GSM network, there are others for whom the iOS experience has been significantly undermined by connectivity problems. Even if you're content with AT&T's coverage, the prospect of iPhone competition for the first time in the US bodes well for pricing.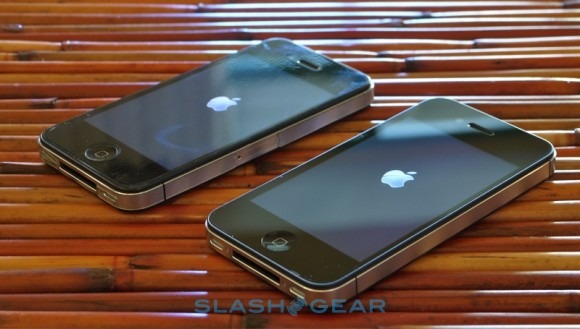 My own concerns with the iPhone 4 had always been patchy AT&T coverage and the absence of native Google Voice support. With the Verizon model and the arrival of the official Google Voice iOS app back in November 2010, both of those issues have finally been addressed. On the flip side, international use is now considerably curtailed; you can use the Verizon iPhone with Google Voice over WiFi, but for most destinations a cellular connection is out of the question. Frequent international travelers may find that too limiting a factor.
Attempting to divine Apple's plans for their true next-gen iPhone is, as speculation over the past four or more years has shown, invariably an exercise in confusion and frustration. What I do know is that, with frequent iOS software upgrades and the capacious App Store, there's a legitimate effort to bring older models as up to date and stretch as much functionality out of them as possible. Whether that's future-proof enough will depend on individual subscribers, but it's clear that the CDMA iPhone addresses an issue very much of the present. Out in the real world, away from the rumors and speculation, the Verizon iPhone 4 performed as you'd want it to: consistent network service to match the consistent software experience.