Verizon iPhone 4 Lower Than Expected Sales Numbers Leaked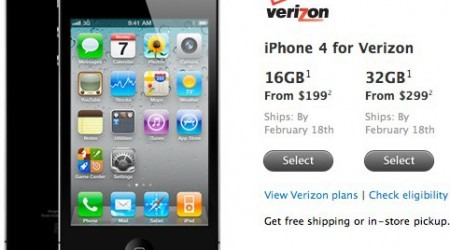 Verizon's much hyped iPhone 4 launch touted record setting pre-orders only to be greeted with embarrassingly small store queues and now disappointing actual sales numbers. BGR got hold of leaked sales data showing a comparison of Verizon versus AT&T's first-week iPhone 4 sales. Although the comparison shows that Verizon sales came out ahead, the numbers are apparently lower than what Apple and Verizon had expected.
The sales data shows unit sales from five Apple stores combined, two of which are very prominent Apple stores:
- Thursday: Verizon = 909, AT&T = 539
- Friday: Verizon = 916, AT&T = 680
- Saturday: Verizon = 660, AT&T = 471
- Sunday: Verizon = 796, AT&T = 701
- Monday: Verizon = 711, AT&T = 618
Other data revealed statistics of who actually bought the Verizon iPhone. Of the people that purchased the Verizon iPhone, 30% were Android users, over 25% were BlackBerry users, and only 14% were AT&T iPhone users.
[Via BGR]