Verizon getting Samsung Trance tomorrow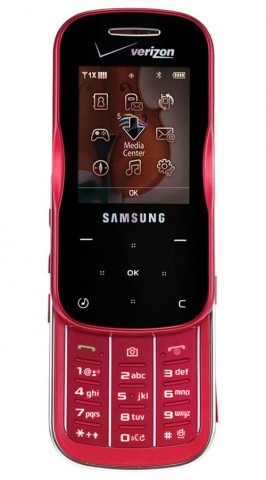 The Samsung Trance slider phone will be hitting Verizon tomorrow, the carrier announced today. The phone will feature several of Verizon's online services like V CAST with Rhapsody and the VZ Navigator.
The cell phone features a 2.1-inch screen with a 176 x 220 resolution, a 3.5mm headphone jack, a 16GB microSDHC memory card slot, 1GB of built-in memory and support for numerous media files including MP3, AAC, AAC+ and WMA.
You can listen to music while completing other tasks on the phone. Also included is a 1.3-megapixel camera plus the Bang & Olufsen ICEpower speakers that allow for great sound quality. Bluetooth is also included. You will be able to get the Samsung Trance on Verizon starting tomorrow for $49.99 in red or black with a two-year contract.