Verizon Galaxy Note 3 and Galaxy Gear pricing leaked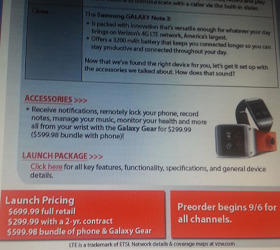 Unlike AT&T and T-Mobile, who have practically already shown their hand regarding Samsung's newly unveiled Galaxy Note 3 and Galaxy Gear, Verizon has relatively been silent regarding its pricing plans. But a leaked internal document might just give us a clue as to what Big Red has in store for its customers waiting to get their hands on the devices.
Samsung gave out a double treat, or triple if you include the refreshed Galaxy Note 10.1, at the IFA trade show, unveiling its two most anticipated devices this quarter. The 5.7-inch Galaxy Note 3 phablet definitely had the specs we gathered it would, but Samsung also threw in some additional surprises, like the leather-textured back cover. The Galaxy Gear smartwatch, another hot topic over the Internet, seems to have also met expectations, but probably would need a bit of time to grown on us as more apps and supported devices get added to the wearable smart device.
In the meantime, US carriers have announced their commitment to make the new devices available to its loyal customers. Now it's just a matter of who does it first and who would have the sweetest offer. AT&T earlier announced that pre-orders will start today and has left us with a price tag of $299 with a two-year contract or $35 a month with AT&T Next. T-Mobile, on the other hand, still has no pre-order set up but has a sweet sweepstakes going on. It also gave out a price tag of $199 on its Simple Choice Plan, down with 24 equal monthly payments of $21.00. Unlike AT&T, it also provided pricing information for the Galaxy Gear, which will cost $299, plus taxes and fees.
Verizon has so for not given extra information other than it will also start accepting pre-orders today. But this leaked photo shows that the carrier will be offering the Galaxy Note 3 for $299.99 with a two-year contract and $699.99 for the full price. Fortunately, it also has some information about the Galaxy Gear, which seems to be only available in a bundle that will cost $599.98. There is no indication from the document if it will be offered alone.
There is also no word on when Verizon will actually launch the new Samsung devices, but it could be in the same ballpark as the other carriers. AT&T says that orders will start shipping on October 1 while T-Mobile plans to launch them on October 2.
SOURCE: AndroidSPIN
VIA: SamMobile