Venturi VBB-3 electric racer sets land speed record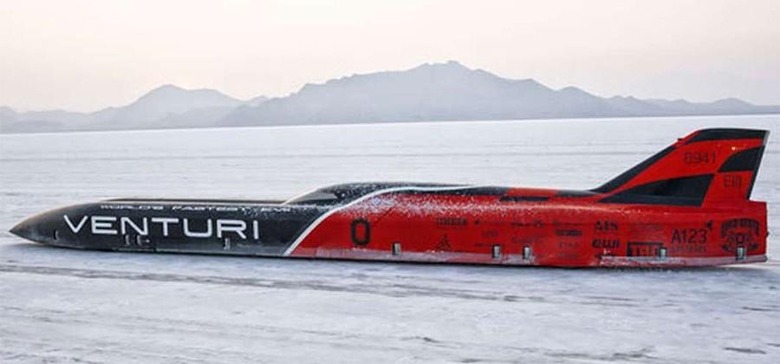 This has been a bad year for racing at the famed Bonneville Salt Flats. Lots of rain has left the normally hard packed salt slushy and clumpy. The conditions were so bad that the Bonneville Speed Week was shut down for the second year in a row. Despite Speed Week being shuttered again this year, a team from Venturi and Ohio State set out last week in an attempt to set a new speed record for electric vehicles in the VBB-3 streamliner.
The poor conditions prevented the VBB-3 from reaching the highest speed it could, but the EV was able to reach a top speed good enough to set a new world record for the class. That record setting speed was 240.320 mph. The makers of the electric racer expected it to reach speeds of around 440mph.
The track the team used for the record attempt was only 10 miles long, rather than the 12 miles it traditionally is due to poor conditions. While deemed safe for racing, the track was wet, bumpy, and muddy. The ground conditions were poor enough to cause vibrations and electrical problems for the car.
The average speed of 240.320 mph was enough to set a new world record for the VBB-3's class. That record is waiting for FIA homologation for the over 3.5 ton category. The bumps and vibrations were so bad that the coolant tank on the car cracked during the run. This is the image you see with the pool of red under the front of the car.
SOURCE: Gizmag