Vega - Monster laptop features monster price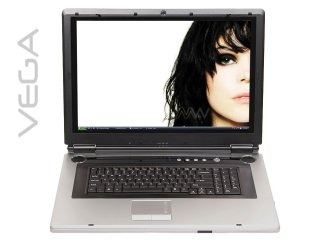 Who says that Intel-based PCs are blowing away the competition these days? Well, I've actually heard quite a few people say that, but this laptop from MicroWorks looks like it could really stand up to the competition.
The Vega notebook is powered by an AMD Turion 64 X2 processor, dual (yes, dual) Nvidia GeForce Go 7950GTX GPUs with 512MB of memory (each). You'll also get your choice of either two 160GB SATA drives or 600GB worth of storage (as a cost to your performance). You won't find a bottleneck at the memory, as it comes with 4GB of DDR2. Other niceties include a Blue-ray RW drive, EV-DO connectivity, built-in GPS and a built-in TV tuner, all optional of course.
They couldn't cram all of this power into a tiny laptop, so you're going to get a huge 20.1-inch screen. I'm not so sure I'd want to lug that thing around. If you need the power and have the cash, the Vega will set you back at least $3000, however, with all of the options you could go as high as $7850.
Vega – Dual Core SLI Capable Notebook [via portablegadgets]