VAIO G line gets new SSD drive option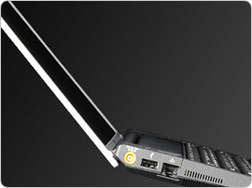 If you're looking for a thin and light notebook that can get the most out of its battery life, look no further than the Sony VAIO G. The G line has been out for a little while already, but with the addition of a 32GB SSD drive to the lineup, it just got better.
The benefits of a SSD drive in a laptop are obvious, the biggest being their ability to take a beating and the fact that they use less power. With the SSD option you'll be able to squeeze up to 12.5 hours of battery life out of the laptop (with the extended battery). It even makes the laptop lighter, bringing the total weight down to 1.89 pounds (without the optical drive).
The G series is no powerhouse, but the 1.5GHz Core Solo processor should be enough to tackle most everyday tasks that you throw at it. You can purchase a G series laptop with the SSD option for about $1,926 in Japan. It is expected to make its way to other parts of the world soon.
VAIO G gets flash drive as Sony revamps line [via electronista]