V-MODA Vibe II earbuds launch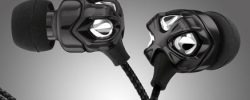 Earbuds can be complicated to buy, especially for those with small ears like me. But it's been proven time and time again that the in-canal earbuds are the best kind for those that find the standard type uncomfortable. A stylish option is the V-MODA Vibe II with Mic.
These earbuds fall in line behind the Vibe Duo. In fact, they can be used with the iPhone, but are utilizable with other music players as well. They also sport a new design that's machined metal and eco-friendly. All of this is fine and well, but the audio hasn't been improved since the last model.
Frequency response is estimated at 12Hz and 22Hz, though a new 8mm driver supposedly offers up a more "organic" sound. Two silicone tips are included in four different sizes to ensure a proper fit, as are add-on ear hooks to keep them in place. You can pre-order the V-MODA Vibe II today through their website or the Apple store in either black or chrome and red. It comes with a carrying pouch for $128.