Ushahidi crowdmapping software reveals silenced Sudanese civil unrest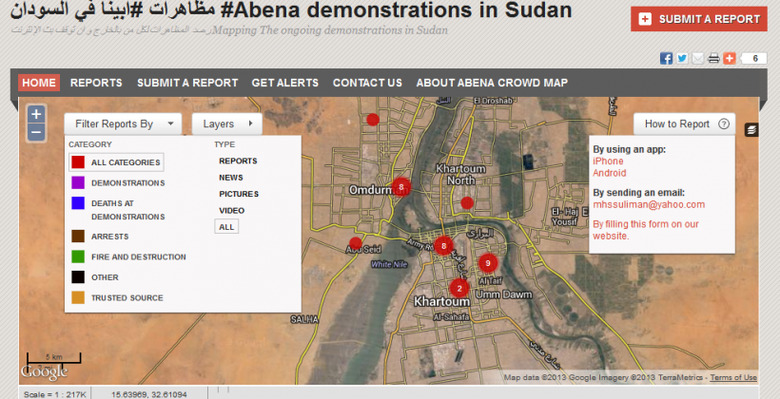 In Sudan, reports from the ground are grim. Demonstrations in Madani and the nation's capitol Khartoum against the Sudanese government for its alleged involvement in the ongoing economic crisis have turned bloody, according to reports by citizen journalists. Government forces backed by President Omar al Bashir have been firing into crowds, killing some. Brick-and-mortar news organizations have been shuttered. The Internet has been shut down in an effort to silence protesters. None of this would be known outside the country were it not for a local implementation, "Abena", of a crowdmapping platform called Ushahidi.
The Abena Ushahidi map, which was created by Sudanese developers Mohammed Hashim Saleh, Abeer Khairy and Ahmed Hassan, is dotted with citizen reports of deaths, fires, demonstrations, arrests, and other events occurring in real time. Anyone can submit a report via SMS, smartphone or Web browser and peg it to a precise location on the map. Reports submitted via SMS must go through a social media platform like Twitter and tagged, e.g., #Abena. All other report methods can be submitted directly through social media or the Abena Ushahidi map website.
The map, which continuously monitors all of these channels, detects the submitted information and queues it for verification by one of the three developers, who compare the stories with other reports and news sources. If the Internet is down, the developers cannot verify reports and SMS reports go directly to the map without a pitstop. This could theoretically lead to too many mistaken reports of government abuses, therefore it is theoretically in the government's better interest to keep the Internet on. Anyone in the world can contribute stories, but the map is intended mostly for boots-on-the-ground eyewitness reports.
The Abena Ushahidi map is just one in a long lineage of such maps. Ushahidi, a 501(c)(3) nonprofit organization registered in Florida but geographically diffuse in its support team, build its crowdmapping platform in 2008 during protests in Kenya. Since then it has been deployed throughout the world during demonstrations gone awry (such as throughout the Arab Spring) and other events–especially in cases wherein the Internet is shut down or censored–to transcend state propaganda in a grassroots fashion. The maps use the Google Maps API and add a variety of filters based on type of event, type of submitting media, and terrain overlays.
SOURCE: Motherboard