Use the MacBook Pro Touch Bar to play piano with this app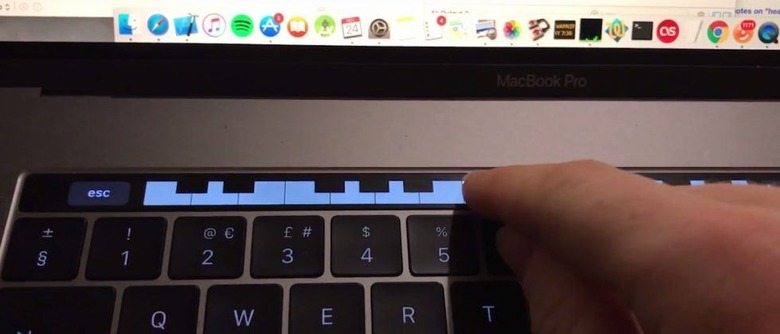 We've already seen a few creative uses of the Touch Bar on Apple's new MacBook Pro; some useful, like a dedicated task-switching app, and some silly, like running the original Doom on the super-narrow OLED touchscreen strip. Now there's another option that falls somewhere in-between: a dedicated piano app.
Dubbed Touch Bar Piano, the free app places a polyphonic keyboard for a piano right above the laptop's traditional physical keyboard. There's also support for multi-touch, so users are free to create their next music masterpiece, or just tap out "Chopsticks." See it in action in the video below.
The other neat feature the app offers is quick access to the sounds of 128 different instruments, not just a standard piano. There are drums, strings, and even effects like applause. The actual music sounds seem to come from the GarageBand library, and there are options for adjusting the octave and touch targets.
Touch Bar Piano is available to download from developer Utsire Software's website. Just be warned that if you're using a Mac without the new Touch Bar, the app is basically non-functional.
SOURCE Utsire Software