USB Volume Slide Controller puts audio at your fingertips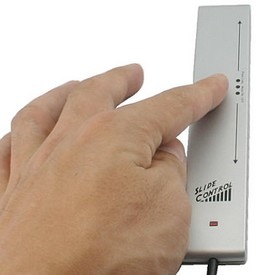 We've seen just about every sort of USB gadget under the sun. From USB speakers to USB toys, just about everything has been made into a computer peripheral. That being said, I can't say that I've ever seen a volume controller like this.
Okay, so I've seen volume slide controls before. Big mixers and other audio tech equipment come to mind, but not in this small form. The USB Volume Slide Controller just plugs into your USB port and you're off and running. You can hook it to your computer or laptop and there you have it. Touch-based volume control.
Now this might not be the most necessary of products in the world, but it is pretty cool and will certainly add a good look to your computer set up, especially if you use a desktop computer. It will begin shipping in November and will only cost you $11.99.
[via Coolest Gadgets]