USB-C will soon output HDMI directly, no adapters needed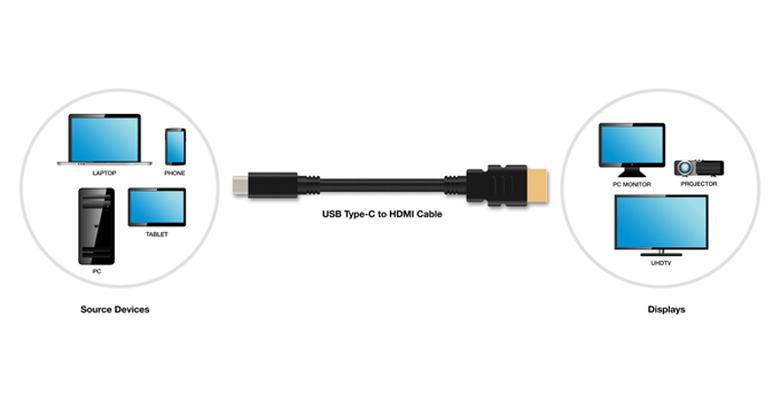 USB Type C, or USB-C for short, aims to be the end all and be all of connectors. Reversible in both orientation and flow, USB-C allows a single port to function as data conduit, charging channel, and even video output. The problem with the latter, however, is that it usually requires some adapter of sort. Soon, however, that will be a thing of the past. HDMI Licensing, LLC, the force behind the HDMI standard has announced a new Alternate Mode, or Alt Mode" that will allow USB-C devices, like smartphones and laptops, to output HDMI video to any compatible display, but this time with just a cable, without adapters or dongles.
To some, it might be a minor change, as they may already be carrying some form adapter with them all the time. It does, however, mean you have one less accessory to worry about getting lost.
But the more important implication here is that any device utilizing USB-C will be able to output video to HDMI displays directly, without fumbling around protocols and converters as well. Previously, video output or devices like smartphones and tablets was a hit or miss, depending on the what protocol or rivaling standards the OEM supported, from MHL to SlimPort to DisplayLink. With the USB-C to HDMI Alt Mode connection, those uncertainties go away.
HDMI Alt Mode supports the full range of features included in the HDMI 1.4b standard. That means support for up to 4K resolutions, surround sound, 4K and HD 3D, and more. Of course, devices on both ends of the cable will have to support those as well.
As to when such cables will hit the market, the HDMI body thinks the rollout will begin early next year,depending on manufacturers. Hopefully, standards compliance in this case will be better than power delivery over USB-C, which has the potential to severely damage devices when not followed accurately.