UPS iPad theft caught on camera- Brown is the new green down in Whoville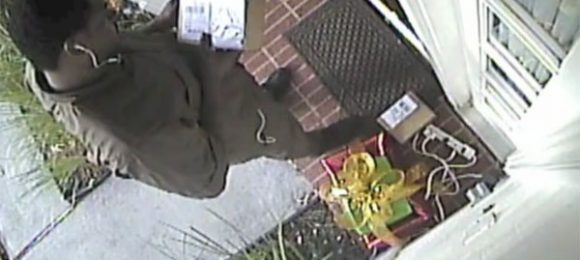 Every holiday season many people around the country order Christmas gifts that have to be delivered via FedEx or UPS. That means it's not uncommon for both the FedEx and UPS drivers to be turning up at your house on the same day for some people. If you've ever suspected that delivery guys might be taking liberties with packages on their vehicles during holiday season, you aren't alone.
A video that was posted to vimeo has turned up on Reddit showing a UPS driver stealing a package delivered by FedEx off the front porch of a customer's home. Early in the video, you see the FedEx driver dropping off the package and pulling the signature slip off the window next to the front door. The FedEx driver compares signatures and does what he is supposed to do before leaving the package on the doorstep and walking away.
A little later in the time lapse video, you see a UPS delivery guy show up, ring the doorbell, drop off his package, and walk away. This is exactly what is supposed to happen. However, the video shows the same UPS driver returning to the house later in the day.
The driver reaches down, picks up the package delivered by FedEx and appears to read the label. He then puts the FedEx package under his clipboard and walks away. The package was an iPad delivered to the homeowner for his daughters Christmas present. The only surefire way to prevent package theft from your door would be to use the services offered by FedEx to hold your packages for pickup at the FedEx location. I hope that this UPS driver will see his heart grow in return the package to the owner.
The video was removed from Vimeo just as we were publishing this story. However, it is still on YouTube.
[via Reddit]