Update For HP TouchPad WebOS Rolling Out Today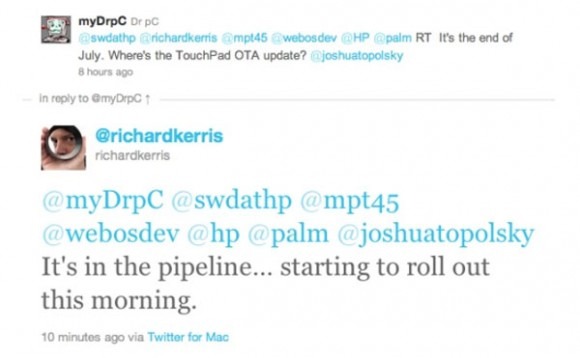 If you are a HP TouchPad owner that has been wondering where that WebOS update that was supposed to be here by the end of July, the wait might be over today. HP is supposedly set to start rolling out the update to all users. The tip that the update was starting the roll out today came via Twitter.
The person from HP that tweeted the news about the update was Richard Kerris, GP head of developer relations. Kerris simply tweets that the update was starting to roll out this morning. We don't know what the update will bring, but we suspect it will be an attempt to address the issues we saw in our review and other things that early adopters complained about.
Noted issues include stuttery video performance, issues with auto-correction, device rotation, messaging, email rendering and web browsing. Pretty much everything needed tweaked. Presumably, there will be a change log with the update when it hits today and we will have a clear idea what the update changes. If you get the update, let us know what changes you find.
[via Thisismynext]