Unu living room gaming systems to ship by November 8th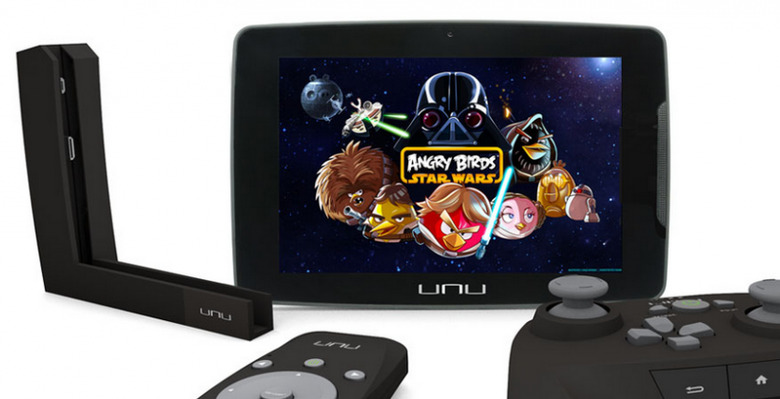 The long-awaited Unu gaming system is set to ship in the next month or so and is available for pre-order now, Unu has announced. The system includes the Unu tablet with Android, a docking station with an HDMI cable for your TV, and the AirMouse remote control. A separate gaming controller is also available at an additional price.
The Unu tablet's specs are upper-middling but acceptable for the living room gaming market. It runs on a 1.6GHz CPU, has a 1080-pixel screen, and uses 1GB RAM with 8GB expandable memory. The AirMouse is used for controlling videos, music, games and apps on your TV (in tandem with the docking station which doubles as an Unu tablet charger.) The flipside of the IR-dependent AirMouse has a QWERTY keyboard for easy typing.
The whole Unu system, including the tablet, goes for $200, while the classic-style controller runs $50. That controller is of course designed for gaming use, and Unu offers a number of Unu controller-optimized games at its store in addition to the ones available at Google Play.
Having first been announced Jan. 2013, the release of the Unu gaming system saw a series of delays this year but will be available at GameStop Octobet 29 and at NewEgg November 8, 2013. It will compete with the much more robust, super-charged Valve Steam living room system we've been following.
VIA: AndroidCommunity