Untitled Goose Game lets you ruin someone's day (as a goose)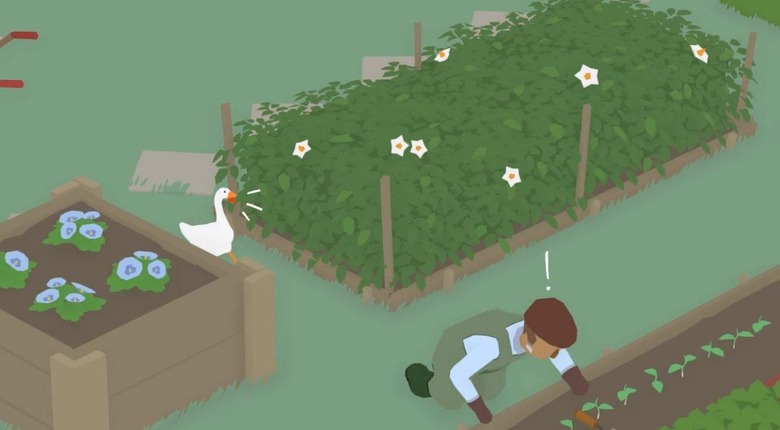 Video games are a wonderful thing, aren't they? They open up windows to unlimited worlds, allowing us to become characters and explore settings that real life doesn't allow. In addition to living out fantasies as a fearsome warrior or a world leader, video games will soon let you become a goose, and a mischievous one at that.
A trailer for new title called Untitled Goose Game (which is its temporary name, I'm assuming) is making the internet go crazy today, and for good reason. Coming from the studio that made Push Me Push You, Untitled Goose Game tasks you with controlling a sneaky goose as it completes tasks on a hand-written list. What's not to love?
The three minute trailer takes us through some pre-alpha gameplay, where the player must find a way around a gardener and into his garden. Once inside, tasks include stealing the gardener's keys and getting him wet, both of which can be accomplished by using items in the world around you.
There seems to be a healthy amount of stealth involved in this gameplay, as we see the goose hiding in bushes and behind statues to evade the gardener. When paired with its solid soundtrack, the trailer for Untitled Goose Game is a hilarious ride. Frankly, I can't wait to check it out.
Unfortunately, you and I will have a bit of a wait before we get to play Untitled Goose Game. The trailer ends by revealing that the game will be out sometime in 2018, and given the fact that this is pre-alpha gameplay we're seeing today, it seems safe to assume that it'll be half a year or more before this game is ready for prime time. We'll keep an eye out for more on Untitled Goose Game, but for now, head down to the comments section and let us know what you think!