Unofficial VLC beta available for Android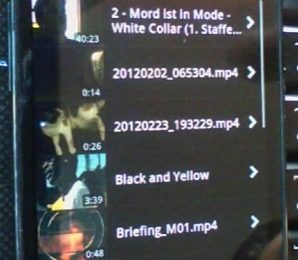 If you're trying to watch video on your Windows or Mac OS machine and don't want to go to the hassle of installing pesky codec packs, chances are you're using VLC. The popular media player hasn't quite managed the jump to mobile devices, instead only seeing various remote control apps. There's finally a version of VLC for Android devices, even if it is an unofficial one.
An intrepid developer over on xda-developers took it upon himself to build VLC for Android from the source code, independent from the main VLC team. It's compatible with Gingerbread and Ice Cream Sandwich, although whether or not it'll work reliably on your device is entirely down to the hardware lurking inside.
Rather than listing off dozens of devices, support is hinted at via chipsets instead. Users are recommended to check Wikipedia to see exactly what kind of chip they have in their device so they can download the correct APK. There are three separate APKs for different architectures: ARM11, Cortex A8, and Cortex A9. That covers a lot of different vendor chipsets, and thus devices, so chances are you're in luck if you want to try the app out. Here's the full rundown on what's supported:
Snapdragon S1 → ARM11
Snapdragon S2/S3 → Cortex-A8/NEON
Snapdragon S4 → Cortex-A9
Tegra 2 → Cortex-A9
Hummingbird → Cortex-A8/NEON
Exynos → Cortex-A9
OMAP3 → Cortex-A8/NEON
OMAP4 → Cortex-A9
If you do decide to download the unofficial VLC, be prepared for some bugs – it's a beta after all, with flaky hardware acceleration, and certain audio codecs, like DTS, not being supported right now.
If you're looking for a more stable experience, personally we would recommend DicePlayer, an app that's been around on the Market for a while offering great video support, and reliable hardware decoding across a wide range of devices.
[Image credit: Androidjunkieman, YouTube]