University of Cincinnati Researchers Create Zero Power Display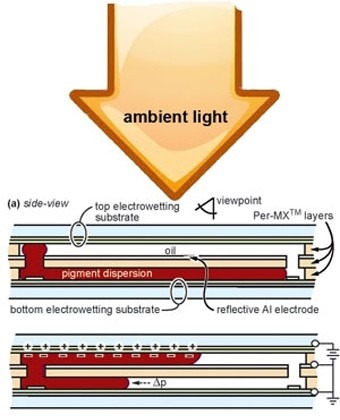 While companies try to figure out ways to pack in more pixels per inch, as well as deliver resolutions that make crystal clear images, there is still a strong push on the other side of the spectrum: offer up color and video, all with a low power consumption equivalent to e-ink. A group of researchers at the University of Cincinnati have unveiled a project seven years in the making, announcing the creation of a new electrofluidics display.
According to the researchers, the new display puts reflective electrodes between a pair of layers of liquid, and then they let ambient light do the rest of the work for them. The researchers outline their method and creation in their announcement, saying that right behind the display are two layers of liquid: a pigment dispersion fluid kind of like an inkjet fluid, and oil. And then between the two layers is a layer of reflective electrodes. "Think of these electrodes as a highly reflective mirror."
When ambient light passes through the display and hits the fluids, and then against the reflective electrodes, the light is then bounced back into the user's eyes. The perception then, is that your'e looking at a bright, color-saturated image, video, or text. The researchers go on to say that their screens, while brand new, are already three times brighter than the Mirasol displays from Qualcomm. What's better, though, is that the researchers say that these new displays can be manufactured at existing plants, so it shouldn't be long before we start seeing them used somewhere.
[via UC]