United Doling Out 23,000 iPhone 6 Plus' To Flight Crew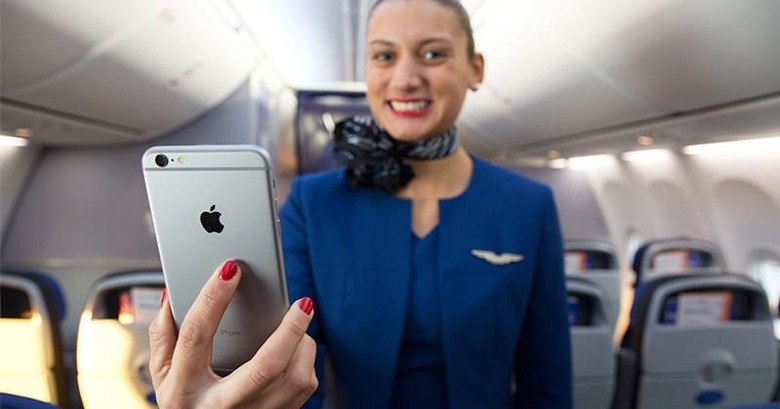 Next time you fly United Airlines, your flight attendant might break out an iPhone. Don't worry, though, they're not bored with you. They're not texting while you talk or anything. In fact, it might be to your benefit! In an ongoing effort to go paperless, United Airlines will be giving all flight attendants an iPhone 6 Plus, which will give them "important safety and service" info in their hand, all the time. The iPhones will start landing in-hand during the second quarter of 2015.
According to United, more than 23,000 iPhone 6 Plus' will be distributed. Sam Risoli, United's senior vice president of inflight services, had the following to say about the move:
We are thrilled to make this investment in our flight attendants. iPhone 6 Plus will enable them to deliver an even higher level of flyer-friendly service and will offer our flight attendants simple, one-touch access to valuable work information, enabling them to better serve our customers.
United also deployed iPads to pilots beginning in 2011, so this move further takes them into a totally paperless existence.
Though they didn't say as much, this likely dovetails with Apple and IBM's new enterprise-focussed apps. An app called Passenger+ is designed to allow flight crews (you know, like those with an iPhone 6 Plus) offer more personalized service in-flight, even re-booking a missed connection.
United Airlines is also announcing they'll build their own suite of proprietary "customer-focused tools" to aid flight attendants via the iPhone 6 Plus.
On launch, the device will be handling all on-board transactions, though it's not clear if that's card swipes or Apple Pay. Flight attendants can also access company email, the United Intranet, as well as policies and procedures manuals.
Source: United