UMi Super Review (Euro Edition)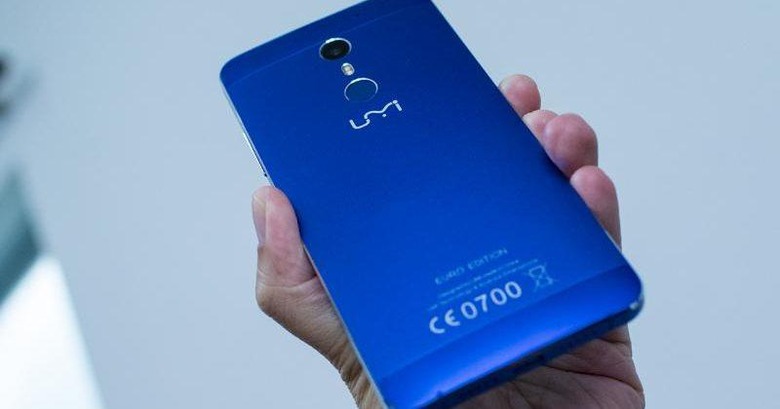 There are dozens of smartphone brands, many of them hailing from China, competing in the mid-range market that it is too easy to get lost in a sea of names, models and specs. So when a little known company poises itself as a flagship killer, with a price that neither OnePlus nor even Xiaomi can beat, it's hard not to pause and take notice. In not so many words, or actually in quite many words, that is what the UMi Super aspires to be, and it does almost reach that pinnacle. Well, as high as a mid-range can reach. Read on to find out how that dream almost came to be.
Specs
Here's a quick rundown of the UMi Super's key hardware features, just to give you an overview of what's in store:
• Operating System: Android 6.0 Marshmallow• CPU: MediaTek Helio P10 octa-core• RAM: 4 GB Samsung LPDDR3• Storage: 32 GB Samsung eMMC 5.1• Display: 5.5-inch 1920x1080 Sharp LTPS• Main Camera: 13 megapixel Panasonic sensor• Secondary Camera: 5 megapixels• Battery: Sony 4,000 mAh, MediaTek Quick Charge PE+
The UMi Super straddles the fine line between mid-range and flagship, pairing a mid-range chip, the Helio P10, with 4 GB of memory found in most high-end smartphones this year.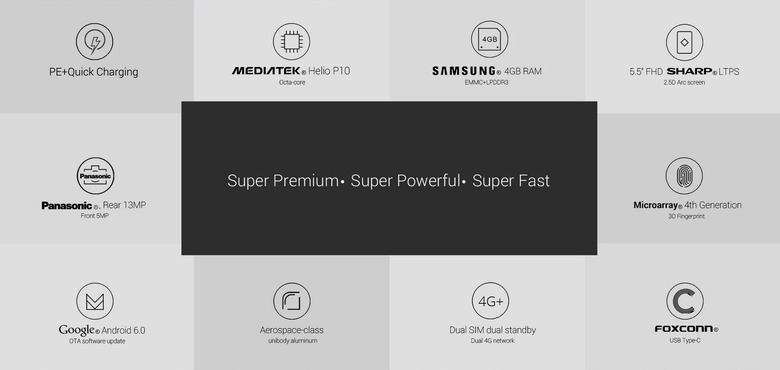 But perhaps more noticeable is how UMi seems to be name-dropping the makers of much of its components, aside from the processor, of course. Unless you're Samsung or LG, chances are you'd be using components made by other companies. some of which might even be your competitors. Not even Apple is immune to that. UMi's admission is admittedly a bit unusual in a fiercely competitive market like smartphones. At least, perhaps in UMi's mind, it would assure buyers that they are getting a smartphone with quality components made by popular brands.
Of course, the whole is greater than the sum of its parts, and a mish-mash of super components does not a super smartphone make. Luckily for the UMi Super, it does in this case. Somewhat.
Performance
Processor
No matter how the marketing tries to spin it, the Helio P10 is MediaTek's mid-range processor, compared to its Helio X20 chip. It is like the Snapdragon 625 to Qualcomm's Snapdragon 820, or the Core m to Intel's Core i. That's not to downplay the capabilities of the chip but to properly frame it in the correct context. Which is to say that it won't be running blazing fast, but it gets the job done, especially with a generous 4 GB of RAM.
The UMi Super's performance on Geekbench and AnTuTu benchmarks were quite impressive for a 2016 mid-ranger. On Geekbench, its multi-core score of 2665 outperforms even the NVIDIA SHIELD Tablet's Tegra K1 chip as well as the Nexus 6.
While the results on AnTuTu might not be that encouraging, it is being compared to late 2015 and early 2016 flagships. In short, the UMi Super is quite on par with 2014 smartphone champions and would solidly beat its contemporaries this year.
Display
A smartphone, however, isn't simply a shrunken down computer. Most of our time spent with it is almost 95% on the display. That is why the quality of the screen is of utmost importance. Here, UMi's name-dropping serves it well. A 5.5-inch 1080p display is actually on par with Chinese flagships this years, as those have refused to make the jump to 2K. But more than that, the UMi Super boasts of a display from Sharp.
Granted, it's not the famous Sharp IGZO technology but one of the company's LTPS panels. That said, the end result is still, well, sharp and bright, an impressive feat for a smartphone of this price.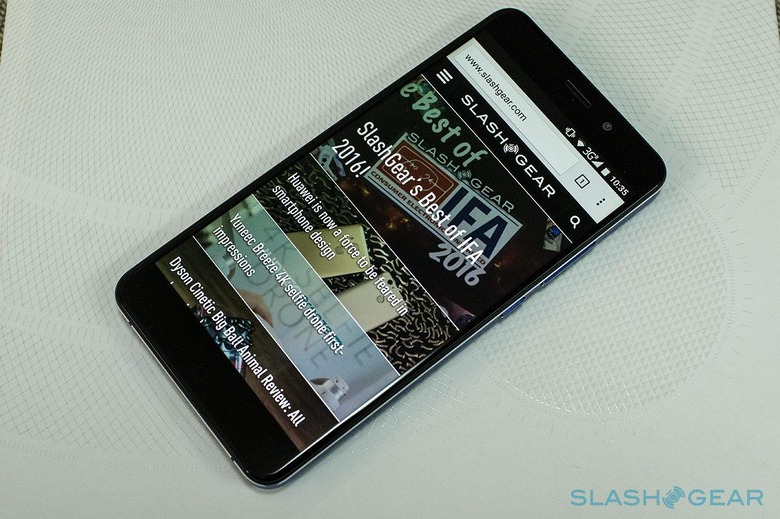 Battery
The UMi Super isn't exactly a small smartphone, though not an obscenely large or thick one. In addition to its 5.5-inch screen, it's also rather thick, 8.5 mm at the thickest point, though 7.9 mm at the thinnest, thanks to its lightly curving back. You might, however, forgive it that slight when you find out that it boasts of a 4,000 mAh battery from Sony. Again, the name-drop.
If that weren't enough, the UMi Super also boasts of fast charging capabilities, partly thanks to a USB-C connector from Foxconn as well as the "Pump Express Plus" or PE+ fast charging technology from MediaTek itself. For just 30 minutes, you're promised a full day's worth of uptime. Extend that to 100 minutes and you reach a full charge. Not bad for a sub $200 smartphone.
Design
We seem to be happily past the days when "cheap" translated to cheap, flimsy materials, even though not all plastics are such. Even budget-friendly smartphones these days can flaunt all their metal sides and edges. The UMi Super is similar, boasting of an all-metal body made from aircraft-grade alloy.
The UMi Super's design seems to revolve around the ideas of minimalism and simplicity, both in the design of the hardware itself as well as the software, as we'll see later. The overall shape of the device is one most will be familiar with, with flat, chamfered edges and a tri-segmented rear that curves ever so slightly to both accommodate a larger battery as well as offer a better fit inside users' hands. The back has nothing but the camera, the dual LED flash beneath, and the fingerprint scanner below that.
Around the edges, there are no hidden surprises, though one might jump to the conclusion that there is no headphone jack given the solitary USB-C port at the bottom. The 3.5 mm port, however, is located at the top. On the right side you get the usual volume rocker as well as a power button. On the opposite left edge is the SIM and microSD card hybrid slot as well as a "smart key" that can be configured to quickly launch any app of choice.
The front of the smartphone is even more bare. No branding or even buttons in sight. At least not physical buttons. In lieu of a physical home button, the UMi Super has a capacitive one that is marked by an LED halo. This isn't a simple aesthetic feature either. Flanking this home "button" are two other capacitive buttons for navigation. As we'll see later, however, that's not yet the complete story.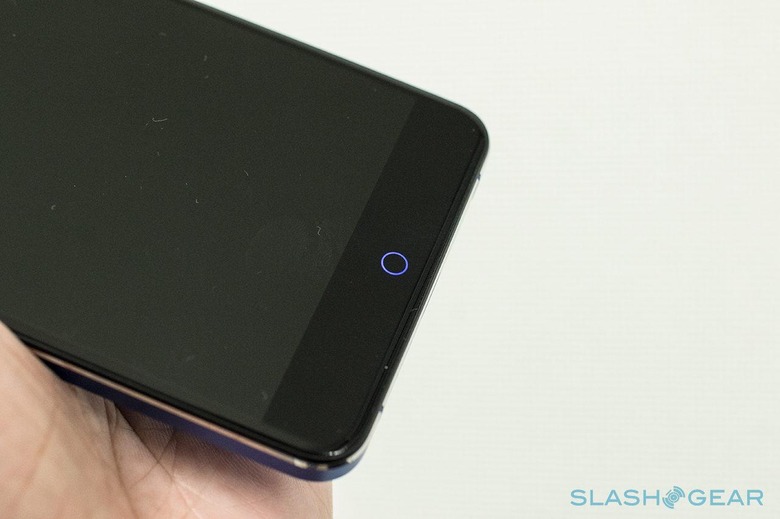 A rather interesting design choice is one that's available for a very limited time, in very limited numbers, and in limited markets. This special Euro Edition comes in a bright shade of royal blue, a hue that you won't easily find among all metal smartphones. There are only 999 such devices available, which are bound to be head turners because of their spectacular specular.
Camera
These days, smartphones makers are putting a lot of focus on the camera, no pun intended. While the UMi Super is definitely no different, the end result is a mixed bag. On paper, the smartphone boasts of a 13 megapixel Panasonic sensor that has zero shutter lag and takes only 0.3 seconds to focus. In practice, however, the UMi Super failed to live up to its claims of speed. Slow cameras translate to missed moments. High megapixel counts become worthless when you fail to take that once in a lifetime shot just right.
That said, the camera does a decent job under ideal conditions, namely, bright, but not so bright, ambient light, sufficient contrast, and slow-moving or still subjects. The camera's quality breaks down easily in low light situations, where even the dual flash can't help reduce the resulting noise.
Again, the key here is that the UMi Super offers a decent camera you won't easily find in smartphones of its price tier.
Software and Features
The UMi Super's minimalist theme extends to its software. Unlike its Chinese peers, UMi offers no special Android user experience or UX. You are basically getting an almost Nexus experience with the vanilla Android 6.0 Marshmallow right out of the box. Those who customize their Android phones with mods and add-ons will probably love how they can start with a blank slate. And no Android user will complain about how fast and responsive a non-bloated Android experience can be.
Of course, there are a few special features included, and perhaps the most special one are the navigation buttons. As mentioned, there are capacitive buttons, one "halo" and two invisible ones. However, UMi also gives users the choice to turn those off and switch to on-screen buttons instead, pretty much like an untouched Android. But UMi doesn't stop there either. You can swap the positions of the back and recent apps buttons to your hand preference, which would probably explain the invisible capacitive buttons. But wait, there's more! When using on-screen navigation buttons, you can also slide them away so that you have the whole span of the screen for content, no matter what app you're in.
One other feature of the UMi Super is also one of its most curious. The LED glow around the capacitive home button is actually configurable to use different colors depending on the source of the notification. You can, for example, set a different color for missed calls, one for alarms, and another one for Facebook alerts. This is similar to the new Smart Glow feature that Samsung introduced in the new Galaxy J2 (2016), except in the front where it is more visible and noticeable.

Wrap-up
You might get the idea that the UMi Super is simply a decent, good looking mid-range smartphone that offers a vanilla Android experience. Truth be told, taken in isolation, that's pretty much what it is.
But here's the clincher: the UMi Super costs only $180 at its lowest (some retailers do hold it hostage for $220). And that limited edition blue Euro Edition? $199. Even Xiaomi, notorious for its dirt cheap prices, will have trouble matching that in terms of back for buck, not to mention market availability. The price point is usually reserved for entry-level devices that won't be able to compete in specs, features, and design.
So to rephrase it a bit, the UMi Super is a decent mid-range smartphone, made from premium materials, with an almost pure Android experience, and a entry-level price tag. It's really hard not to get floored by that.
The recent spate of new mid-range challengers in the smartphone market heralds a new phase in the history of the device, where everyone who isn't Samsung, Apple, LG, and the like are instead battling out in below the flagship line. It is, however, also blurring the lines between tiers and prices. And the UMi Super just demonstrated that if you try hard enough, you can indeed make miracles.