UMi Plus Review - Mid-range deja vu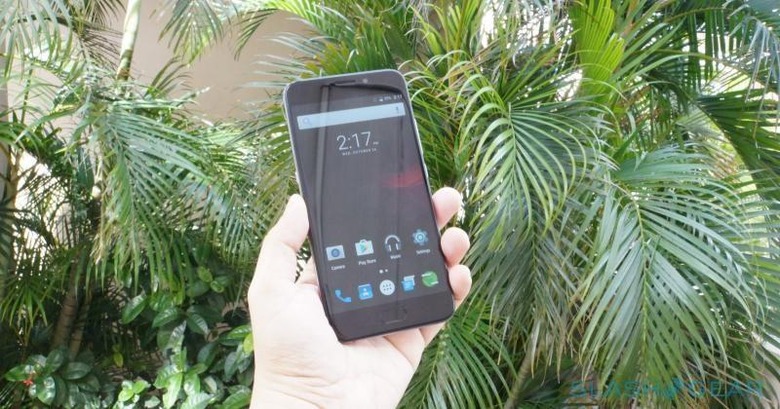 In the first half of this year, a new challenger in the smartphone arrived with guns blazing. Ignoring the almost cutthroat competition in the high-end, the UMi Super aimed for the mid-range, easily rivaling other, older brands in both features and bang for buck. But UMi was hardly done. Just two months later, it unveiled the UMi Max. And then just a month or so after, the UMi Plus. But with three smartphones in less than six months, things are bound to get confusing. Does the UMi Plus have enough for it to stand out from its own siblings, let alone the rest of the market? We take a deeper look to bring you that answer.
The Box
Gone are the days when every new device, especially high-end ones, were welcomed with unboxing videos and photos. As boxes became less notable, so too have become the unboxing process. UMi, however, has done differently with the UMi Plus. Instead of your usual cardboard affair, the smartphone comes insides a compact, plastic box, with a translucent black top cover that lets you take a peek at the smartphone sitting inside.
The choice of material is somewhat of a two-edged sword. On the one hand, some would criticize UMi for choosing a not so environment friendly, not to mention economical, material for its boxes. On the other hand, when you remove everything hidden inside, you can repurpose the box some other need instead of simply throwing it away.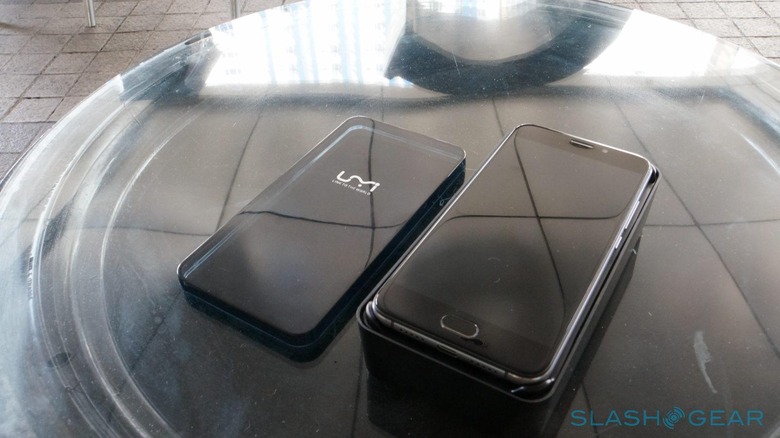 In addition to protecting the smartphone, the choice of using a simple yet striking plastic container reflects UMi's desire to leaving a lasting, positive first impression, setting itself apart from the dozens of nearly indistinguishable models vying for attention in the market.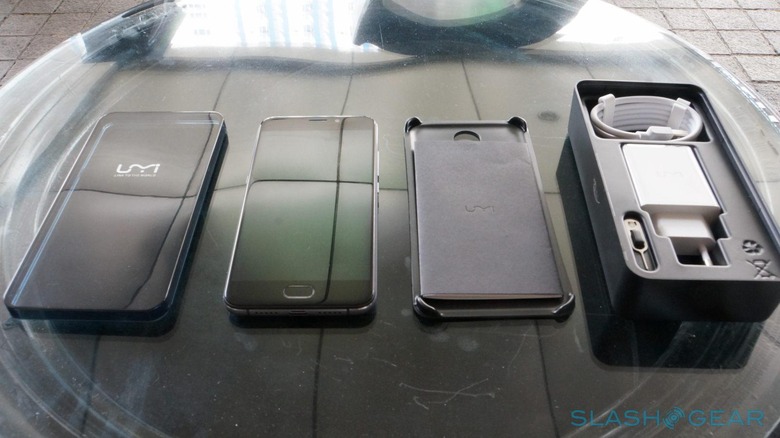 Design
The first thing you'll notice when you lift the UMi Plus from its box is how solid it feels. That is to say it doesn't feel like flimsy plastic. But it also means there's quite a bit of heft to it. Not so much that it becomes tiring to hold, but just enough for you to realize this is no cheap device, despite the price tag.
Like many smartphones these days, even down the mid-range, the UMi Plus sports an all-metal unibody construction, with one rather odd caveat we'll get to in a while. UMi particularly boasts of using 6000 series aluminum for its construction, the very same magnalium alloy used for crafting airplanes. Indeed, the UMi Plus definitely feels sturdy in the hand, though as with any aluminum back, there's always a worry about scratching that premium-looking surface.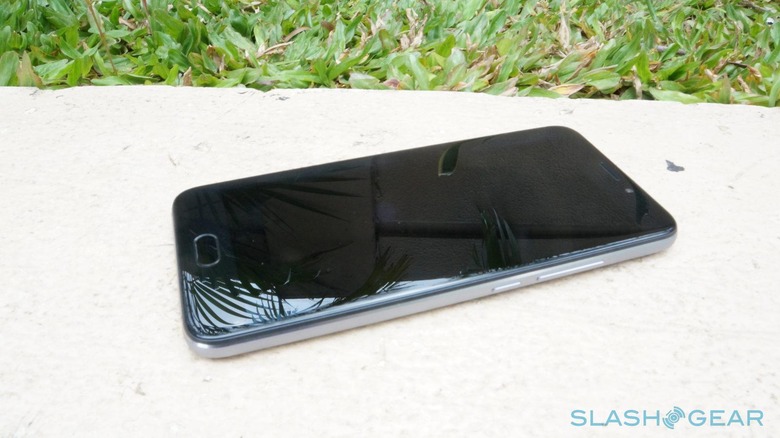 The one odd wart on the UMi Plus' face, or rather its back, can be found at the top and bottom areas of the rear metal plate. Whereas other smartphones sporting a similar segmented design have lines running across the entire width of the device, from edge to edge, the UMi Plus seemingly has plates instead.
There are visible seams at the top and bottom, making those portions feel more like plates that can be pried off with a tool. Definitely contradicts the unibody design claim. Also odd are two tiny holes at the top and bottom edges of the smartphone, which we can only presume to be where the mics lie.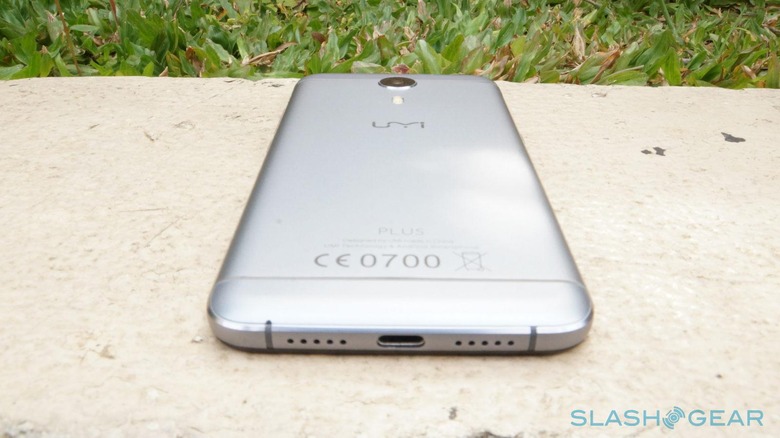 Unlike the trend these days, the edges of the UMi Plus are very flat. This is actually a plus, pardon the pun. Combined with the relatively thicker profile, at least compared to an iPhone, for example, this makes the UMi Plus easier to pick up from a surface, without fearing your grip will slip. And lest you think those hard edges will cut into your palm, the smartphone's back curves at the edges, making for a comfortable hold.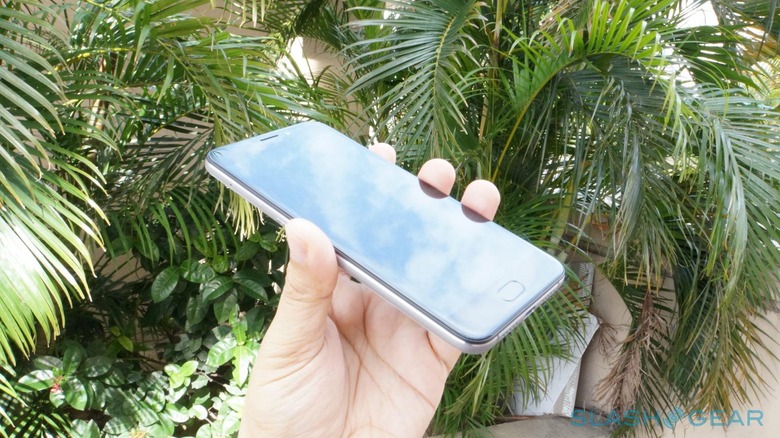 While the UMi Super put its fingerprint sensor at the back, which is actually separate from the home "button" on the front, the UMi Plus combines both in one location on front of the smartphone. With a 2.5D edge display and rather generous top and bottom bezels, the UMi almost seems like a dead knocker for Apple's smartphone. Good thing that the home button is more rectangular than circular.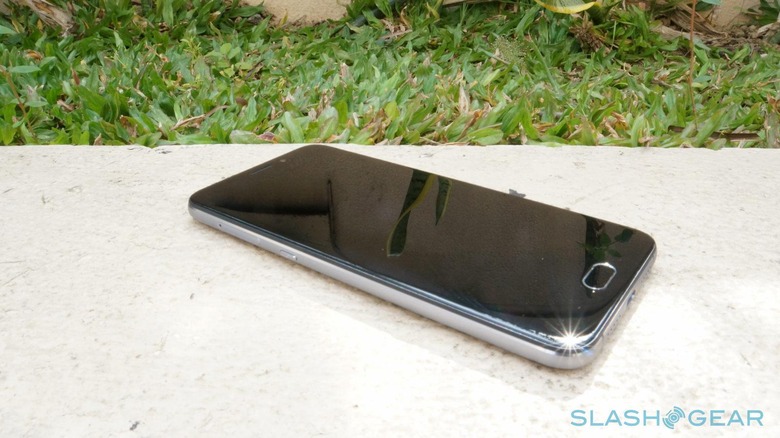 All in all, the UMi Plus' design is both typical yet surprisingly premium for a smartphone of its price. If you were to guess its price tag simply by looking and holding it, you'd probably mistake it for something along the $300-$400 range, which is a gross overestimation. That almost shocking blend of quality with a price to die for luckily continues to the hardware.
Hardware
Smartphones are starting to look alike when it comes to their spec sheets that sometimes it's almost no longer worthwhile to parrot them all. Of course, we'll still do, just for reference:
• Operating System: Android 6.0 Marshmallow• CPU: MediaTek Helio P10• RAM: 4 GB Samsung LPDDR3• Storage: 32 GB Samsuing eMMC 5.1• Display: 5.5-inch Sharp LTPS, 1920x1080• Main Camera: 13 MP Samsung 3L8, 5-element lens, PDAF, two-tone flash• Secondary Camera: 5 MP GalaxyCore GC5005• Battery: 4,000 mAh, Pump Express+ quick charging
What is notable in UMi's listing of specs, both in its marketing and its official sheet, is that it isn't shy about citing who made which components, sourcing them from some of the biggest names in the industry. Of course, that is actually the case for almost all smartphones, but manufacturers usually don't mention their sources. But UMi, being a relatively new player, needs to build up its reputation and boasting about some of the best components is definitely one strategic way of doing so.
And, to some extent, it does work. It's hard to deny how well these components work in practice. Some of these you already have seen in the UMi Super before. That is, actually, one of the weirdest things about the UMi Plus, that is so closely resembles a slightly older model. On the flip side, it does mean that almost everything has already proven to work.
While not its famed IGZO display, the Sharp LTPS screen still produces clear and crisp visuals with accurate color reproduction. It is not the brightest out there, especially when you do use it out there, but for most cases, it just works. The resolution is 1080p of course and if you're coming from a WQHD smartphone, the larger icons and text can be a bit jarring. Then again, even some high-end smartphones, especially those coming from China, still use this resolution, so the UMi Plus is in good company.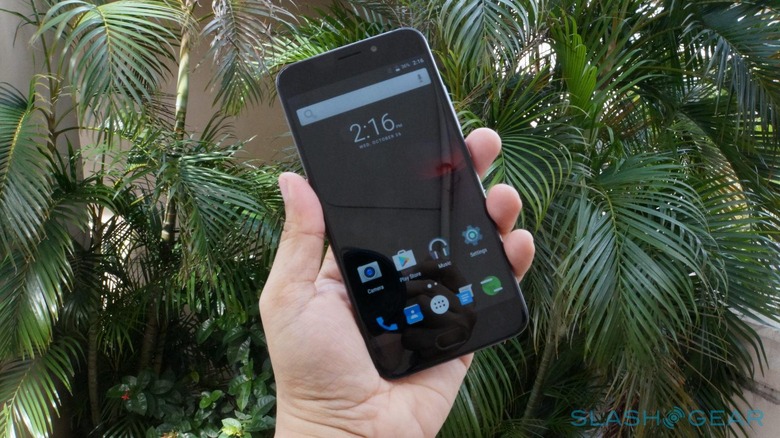 Where the Plus differs from the Super is really the camera. Instead of the modest 13 megapixel Panasonic sensor on the UMi Super, the UMi Plus boasts of a 13 megapixel Samsung 3L8 camera. This sensor adds a touch of Phase Detect Autofocus, promising even better quality photos. How much? We'll see later on.
UMi boasts of a fast, 0.1 to 0.3 second fingerprint scanner, both in the Super and in the Plus. In practice, it feels slightly slower than that, depending on your starting point. If you're coming from a locked display, from touch to home screen can take about as much as 0.5 seconds. With the display already turned on, the process is, of course, quicker, but not by much. The accuracy of the fingerprint sensor, however, might be its biggest flaw, with about 3 out of 5 attempts missing the mark. UMi says that the sensor is a multi-function one, but, as you'll see later, that's only half true.
The UMi Plus has a rather sizable battery at 4,000 mAh, which explains both the size and weight of device. It's non-removable though, so we're not going to complain. It will definitely last you a whole day, especially on Wi-Fi. But combined Wi-Fi and cellular data usage takes that down a notch. The smartphone does boast of MediaTek's Pump Express Plus (PE+) fast charging, but only with the provided charger, of course.
One odd thing about the UMi Plus is the USB-C cable that it comes with. Or rather, it's USB-C port. Comparing the provided plug with other USB-C cables reveals it to be slightly longer than most. Indeed, plugging in other cables produces a rather unstable connection, implying that the port is actually deeper than most other USB-C ports. In practice, this means that other USB-C cables won't exactly be compatible with the UMi Plus and that the UMi Plus cable's plug will be too long for other USB-C devices. So much for interoperability.
As far as audio is concerned, the UMi Plus is barely notable, despite UMi boasting of a Hi-Fi amp. Output is a bit lacking in bass and pumping up the volume to the max produces noticeable distortion. Plugging in a headset makes the experience better, depending on your pair, but audio is clearly not one of the smartphone's strongest suits.
Performance
There is no getting around the fact that the UMi Plus is a mid-range Android smartphone. Whether that's a deal breaker or just fine really depends on what you aim to use the smartphone for. Make no mistake, the MediaTek Helio P10, though not as gifted as its X10 sibling, has enough muscle to drive everyday mobile use. It can even do sufficient gaming if you properly set your expectations.
The Mali-T860 is no Tegra, of course, but in running a few games it held itself quite well, save for a few stuttering or pauses here and there. Modern Combat 5 and Implosion: Never Lose Hope ran smooth as butter, but something more graphics intensive like Godfire: Rise of Prometheus had some hiccups here and there, not to mention some rare distortions. Final Fantasy VII also plays nicely, except that it suffers the same blue tint bug in cinematics that not a few smartphones are experiencing.
The UMi Plus' secret sauce is its 4 GB LPDDR3 RAM, a rare treat even for a mid-range smartphone. While not the fastest LPDDR4 type, it does mean that apps have a lot of room to play in, which benefits multi-tasking greatly. That said, the bottleneck here will be the CPU, and there's really no way to fix that after the fact.
For the sake of having numbers, here are some of the scores from your favorite benchmarking apps. As expected, the UMi Plus sits somewhere in the lower depths, rubbing elbows with both recent mid-range smartphones as well as some 2014 flagships.
AnTuTu:
GeekBench:
GFXBench:
FutureMark (3D Mark, PC Mark):
Software
Android fans looking for a migration path from the Nexus might fall in love with UMi's smartphones. There is barely anything there and it is as vanilla as one can get. Give or take a few special features, of course. There is practically no added bloatware from UMi, aside from a custom web browser, backup & reset utility, file manager, a redundant flashlight app, a custom gallery and music app, and a sound recorder.
There isn't even any utility for managing memory usage, running apps, disk space, etc., something that has become a trend, even among bigger brands. There are barely any modifications from the stock Android user interface, except for a feature here and there. For example, in the quick toggles, users will be able to immediately select the sound profile they need, from general to silent to outdoor.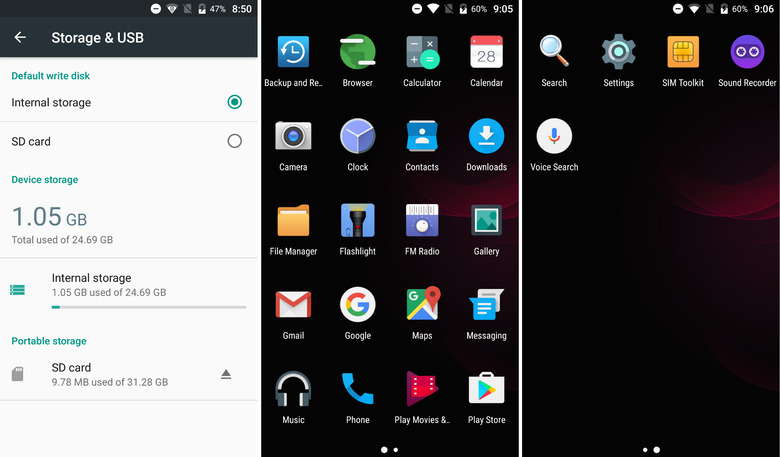 One of the key customizations that UMi added to the Plus, and probably one of the most confusing as well, are the navigation buttons. Unlike the UMi Super, there is a clearly visible and physical home button smack in the middle, hiding the fingerprint scanner inside. What isn't visible are two capactive buttons left and right. These buttons are reserved for the Back button on the right and the Menu button on the left. Yes, menu button. We're back to the old days of Android. Now, you might think that these buttons are probably programmable, as UMi didn't mark these buttons as such. Wrong answer! They are totally fixed in their functionality. Not only can they not be changed, but the convention of having a menu key went away a few Android versions back.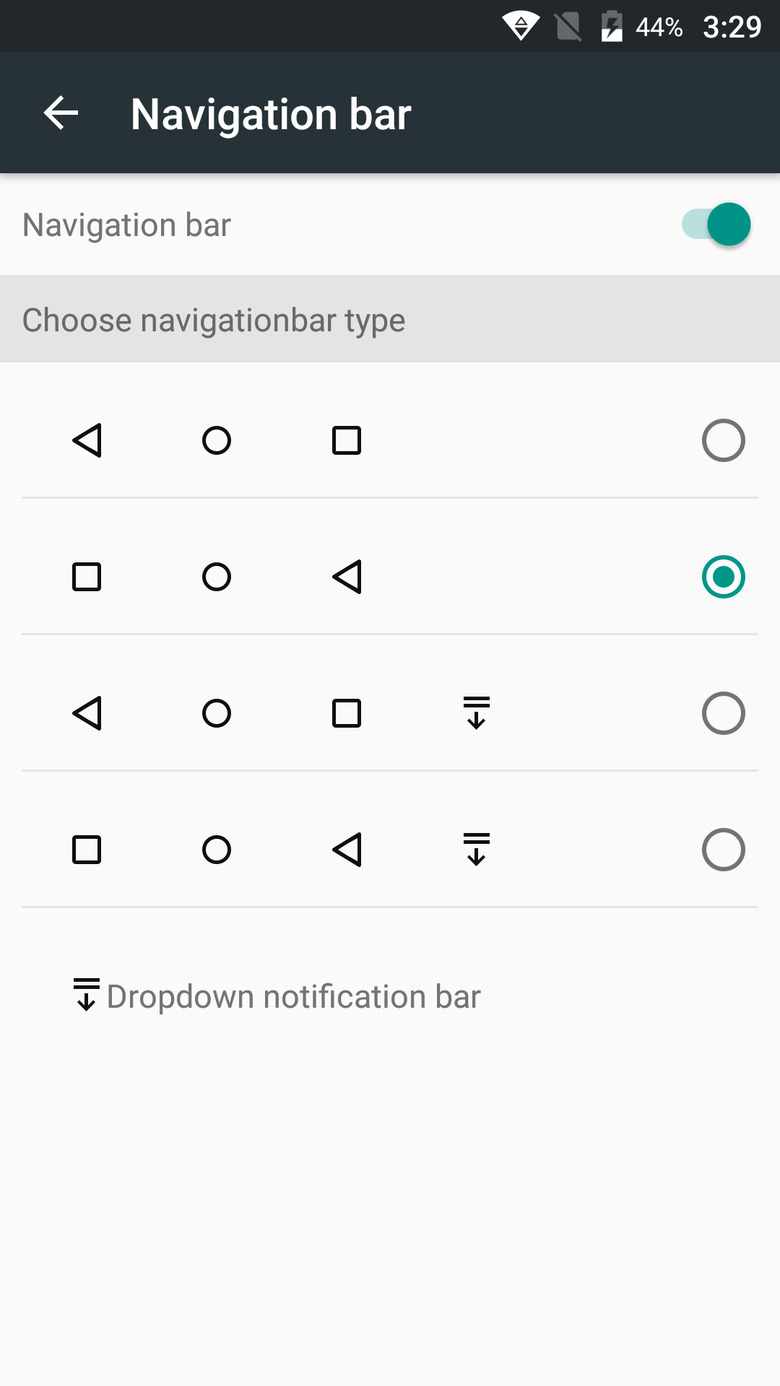 Luckily, UMi has a feature for that. It mercifully included an option to have on-screen navigation buttons. Just like a Nexus! But unlike a Nexus, you can actually change the order of the Back and Recent Apps, not Menu, buttons. You can even have a button for sliding down the notification panel. There's also a button to hide the on-screen navigation bar. You can unhide it by sliding from the bottom up. Sounds perfect, right? Except for one tiny detail. While it's possible to enable, or disable, on-screen navigation buttons, it is not possible to disable the capacitive ones. This means that you are inevitably going to rest your finger or palm on one of the invisible buttons and surprise yourself, because, in your mind, you should only be using the on-screen buttons. In reality, however, they can all be enabled at the same time, making for a rather confusing setup.
The biggest affront as far as navigation goes is sadly one of the biggest conveniences of the UMi Plus as well. You can unlock the smartphone directly by simply placing your finger on the home button. No need to press it down at all. There's also a second function actually, that you can immediately jump to the Home screen that ways as well. if you're like majority of smartphone users in the world, you will, accidentally or otherwise, touch that portion of the device, whether with your fingertip, knuckle, palm, or heaven knows what other body part. The UMi Plus responds to all those the same way, taking you to Home and cutting off whatever you were doing beforehand. And no, there is no way to turn that behavior off.
A growing number of smartphones are featuring a dedicated hardware button that can be programmed to do things, usually launch an app. The UMi Plus is no different and offers what is simply calls a Shortcut button. The button is really simple, perhaps even too simple. The settings let you map an app to the button, which get launched any time you press on it. It only works, however, if the device is already unlocked. So if you're expecting to jump to the camera app from a locked screen, you'd be sorely disappointed.
The UMi Super featured a rather stylistic "halo" home button that displayed different colors to indicate a type of notification. The UMi Plus has something similar, but one that pales in comparison. The LED notification sits at the left of the top speaker, like almost any other notification. And, this time around, you are limited to three colors only: red, green, and blue. And you can assign those to four events: incoming calls, missed calls, missed messages, and "everything else". Statistically speaking, you are bound to reuse one of the colors. The most interesting part of this feature is perhaps its name; Harlequin LED Notification.
Camera
Smartphone makers these days have put the camera on a pedestal to the point that they can make or break a product. That is even more true with the UMi Plus. That's because the camera is practically the only way that the UMi Plus differs from the UMi Super. Whereas the Super simply had a 13 megapixel Panasonic sensor, the Plus boasts of a 13 megapixel Samsung 3L8 sensor with Phase Detect AF and a 5-element lens. Which implies that it's a lot better, right?
Photography is harder to judge in practice, and we'll have to consider the UMi Plus by its lonesome self. In truth, there is indeed an improvement over the Super, which was already OK, and the Samsung camera does yield agreeable results. But while the UMi Plus indeed does better than some of its peers in the same tier, it isn't going to break any records.
As you might expect, the UMi Plus does fine in the most ideal of scenarios, but when darkness looms, it falters in preserving details. While the PDAF does work as advertised, the camera struggles instead in stabilization. HDR, which is disabled by default, helps a bit in both low light as well as slightly shaky shots. But you do end up with washed out colors in exchange. Plus, the exposure time with HDR turned on is so palpable that it actually risks incurring more movement in the process.
Here is a shot without HDR: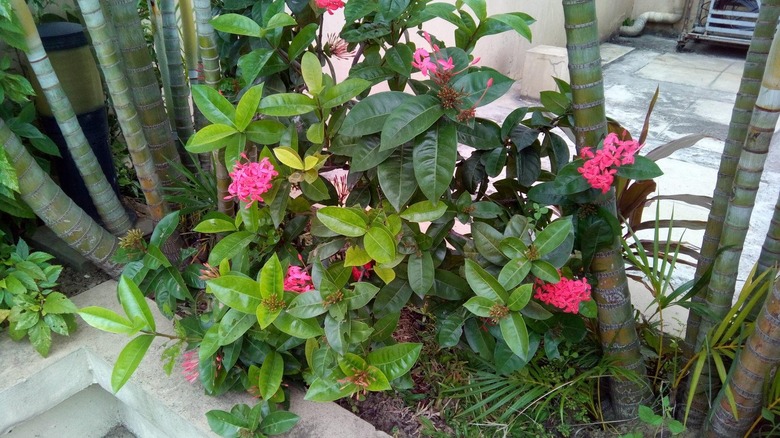 And here's the same with HDR: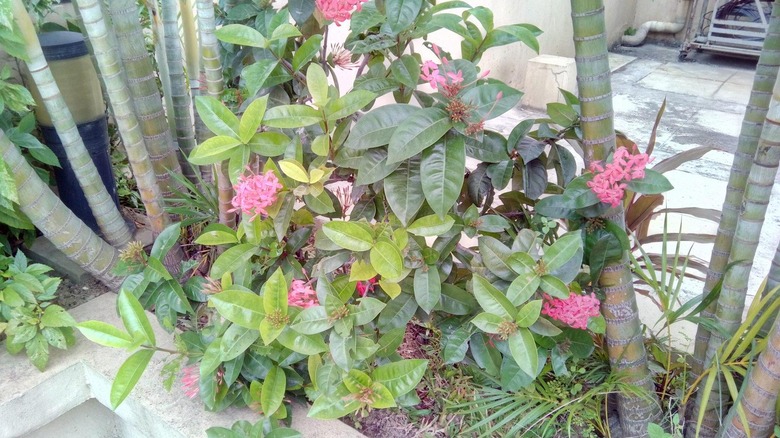 UMi's camera app is actually very basic, which thankfully translates to a fast startup time. There are filters like Sepia and Posterize, but there are no video modes for time lapse or even slow mo. One thing the app does have over most simple camera apps is that it offers controls for brightness, exposure, ISO, etc. And while there is a toggle for automatically detecting scenes, there isn't one for automatically enabling or disabling HDR.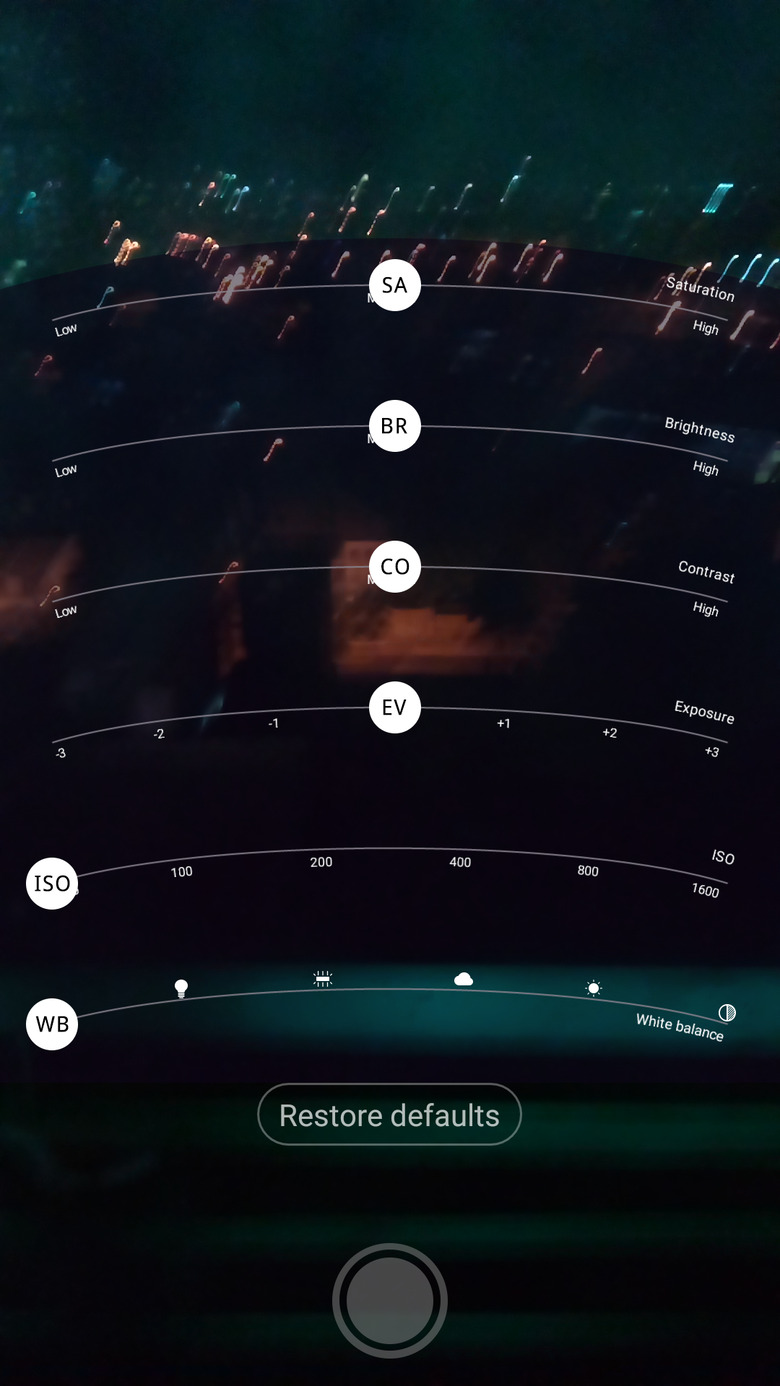 The UMi Plus camera won't definitely butt heads with the likes of, say, an iPhone 6 or Galaxy S5, both 2014 models. But it's also not something you'll feel forced to use just because you have nothing else in your pocket or bag. The UMi Plus does more than a decent job of capturing the moment. Just don't expect a perfect shot, unless you have all the perfect conditions and settings.
Wrap-up
Whereas the smartphone market in the past tended to gravitate towards the high end, many manufacturers have switched to battling for the best in mid-range instead, leaving the top tiers to giants like Samsung, LG, and Apple. With so many brands and models to choose from, the decision-making process is even more confounding than ever.
UMi's smartphones, however, have carved out a special niche for itself. Very few mid-range smartphones can boast of a $200 or lower price tag and yet, at the same time, boast of near flagship features. It's a near perfect option coming from a fresh new name. Sadly, it falls prey to its own marketing tactic.
As with the UMi Super, the company proudly boasts of the different components that make up the UMi Plus, sourced from some of the biggest names in the market. On the one hand, it hints at some humility on the part of the manufacturer, knowing too well that it stands on the shoulders of giants. On the other hand, it also makes it look like the UMi Plus is just a collection of components pieced together to make one final product.
The whole is greater than the sum of its parts, and nowhere does that apply more than with smartphones. While perfect from a spec sheet vantage point, the UMi Plus feels a bit disjointed at times, with different parts, especially where hardware and software intersect, moving in different directions. The UMi Plus has the makings of becoming one of the best "bang for buck" mid-range smartphones in the market, but it's the little paper cuts here and there that will leave your heart bleeding.