Ultra-portable Mac due out late '07 or early '08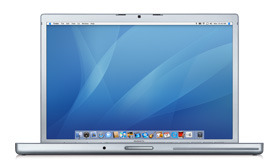 It looks like we've got some changes to look forward to in the realm of Mac notebooks, including an ultra-portable. Apple Insider managed to snag some inside info (wonder how they got their name) on the inner workings of Apple's portable Mac department.
That's right, Apple is working away on a 13-inch ultra-portable Mac. We don't have a lot on information, but we do know that it will feature the 13-inch LED backlit screens we covered recently. We also know that there won't be an optical drive, it will have on-board NAND flash to improve speed, built-in iSight, 802.11n AirPort Extreme and a MagSafe power adapter. It is slated to launch at the end of 2007 or the beginning of '08.
The other big change will be coming to the MacBook Pro line. They will have Santa Rosa CPUs boasting 800MHz FSB and clock speeds of up to 2.4GHz. The 15-inch MacBook Pros will also be the first Macs to get the LED backlit screens.
Next 'MacBook' update a yawner; Ultra-portable to get 13-inch display [via appleinsider]