Ubuntu Touch takes a huge step towards Convergence in OTA-12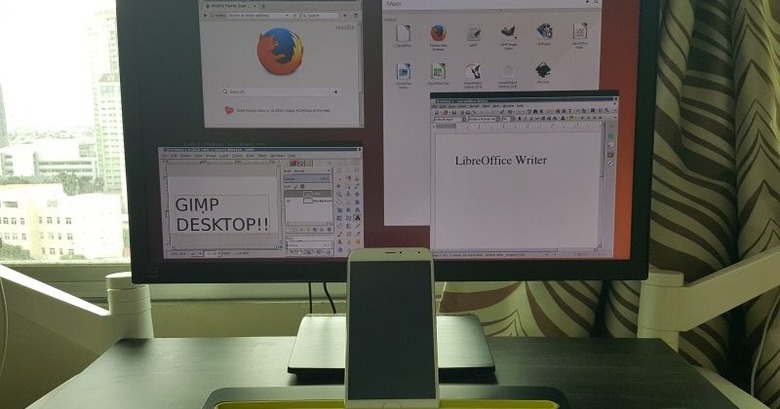 Ubuntu has a very ambitious goal with Ubuntu Touch. It proposed an operating system that could work equally on any capable device, a smartphone that can truly be your computer, no holds barred. That was the promise of Convergence, which we took for a spin with the Meizu PRO 5 smartphone and, before that, the bq Aquaris M10 tablet. The results back then where disappointing yet promising. Ubuntu Touch, as it was when we reviewed these devices, still lacked that punch that would make you truly go "wow!". But, unlike other operating systems, Ubuntu is fast evolving, and the latest OTA-12 brings much needed improvements to bring us closer to true Convergence.
Freedom with Libertine
The biggest features in OTA-12 can be felt on the Meizu PRO 5, which isn't that surprising considering it is the most powerful commercial Ubuntu Touch device in the market to date. At the very top of that list is that OTA-12 finally brings Libertine support to the smartphone. Putting technical talks aside, what this means is that the Meizu PRO 5 is finally able to install and run desktop software available from Ubuntu's repositories. Programs like Firefox (desktop version), the GIMP image editor, the LibreOffice productivity suite, and more can now be installed and used, whether in mobile or desktop mode. That said, you'll probably only want to use them when you have an external display, keyboard, and mouse connected anyway.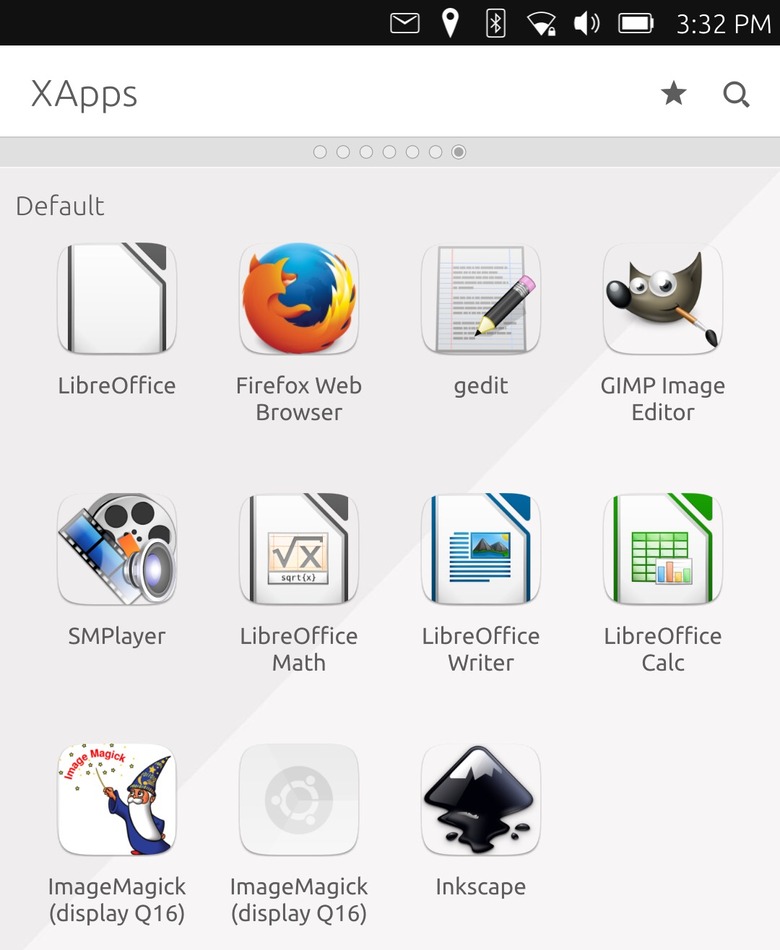 This takes away some of the more painful points we encountered in our review of the PRO 5, particularly its lack of apps and its practical uselessness in terms of Convergence. It's not yet the ideal state, of course, and there are still some kinks to be ironed out (as we'll see later), but it's a huge step forward from 0 desktop apps to a whole bunch of them. Installing those desktop apps isn't exactly easy, requiring some command line use. In the future, it could get easier, but this satisfies the bare minimum.
Another big new feature for the Meizu PRO 5 is the addition of biometric security, specifically, support for a fingerprint scanner. This is the first time Ubuntu Touch ever got this feature. Coincidentally, the PRO 5 is also the only Ubuntu Touch device that has the hardware. Again, it's a significant step forward in getting Ubuntu Touch to support modern hardware features. Fingerprint detection appears to be quite fast and accurate, but setting it up is actually quite a pain. It tells you to swipe across the sensor, but only after you're reached more than 40% does it indicate which directions. It's also a bit random. Sometimes simply placing your finger over the sensor works. Sometimes repeatedly swiping your finger slowly over it doesn't work. It seems you can only save up to five fingerprints, but it won't tell you that. The sixth fingerprint will fail, but only after you've gone through the grueling process from 0 to 100%. Hopefully, you'll only have to setup your fingerprints once.
Freedom from wires
The bq Aquaris M10 tablet already had desktop apps from the get go. And it doesn't have a fingerprint scanner anyway. So what gift does it receive in this OTA-12 udpate? Wireless display support, that's what! The Aquaris M10 could already direct its video output to an external display via a microHDMI cable, but it's arguably cooler to do that without the use of wires. However, it does require that you have a Miracast receiver of sorts, like Microsoft's Wireless Display Adapter, for example. Luckily, the Meizu PRO 5 only works with a wireless display, so there's already a Miracast dongle lying around.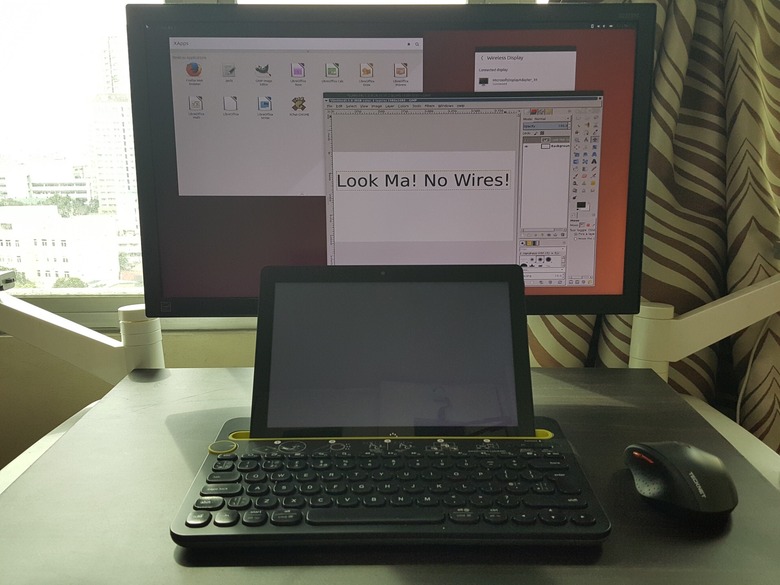 Sadly, other devices in Ubuntu's list aren't guaranteed to ever get this feature, due to a combination of hardware and software limitations.
Freedom from bugs
While those new features concern only the two latest Ubuntu Touch devices, they are, by far, not the only major changes that OTA-12 brings. Quite a good number of those shower their blessings on all device, though some do apply to only those with certain features. For example, those that can install desktop apps will now find that the virtual keyboard pops up on desktops apps as well, making it possible, though not always ideal, to use those without a physical keyboard attached.
Notifications have also been fixed in a big way. Previously, tapping on a notification does nothing and the only way you can jump to an associated app is to tap the notification's icon. Pretty unintuitive. Luckily, that's no longer the case now. The web browser has been given some love in this round, improving on touch to select gestures, optimizing the new tab loading time, and zooming, among other things. Other goodies include being able to forward messages in the Messaging app, playing videos right inside the Videos scope, and colorful emojis on the keyboard.
Wrap-up: To be continued...
Ubuntu released OTA-11 just over a month ago. The quick but significant progress made in over so short a time bodes well for the platform. But despite the huge leap that Ubuntu Touch made, it is still far from becoming a truly convergent system. There are still a few issues that need to be addressed before Ubuntu Touch becomes a mobile platform that is also a truly usable desktop.
At the very top of that is list is the ability to copy and paste content, even just test, between desktop apps as well as between desktop apps and native mobile ones. That is coming, I've been told, and hopefully very soon. The web browser still remains half useful, unable to view sites that require a mobile app instead. A desktop-mode will make short work of that, and the browser is already capable of that. It just needs a toggle. Performance in desktop mode is still a bit iffy, but improves greatly in each new update. And, although probably impossible to happen any time soon, Ubuntu Touch needs to invite and nurture quality mobile apps, and not just hastily made wrappers around web apps. As much as possible, that is.
Again, the good news is that the story is never really over. There isn't a "final" release where Ubuntu Touch developers will stop making progress (and hopefully not regressions). With all the good news that OTA-12 brought, it is quite exciting to see what the next OTA will bring to the table.