Uber Safe breathalyzer gets Canadians home at no charge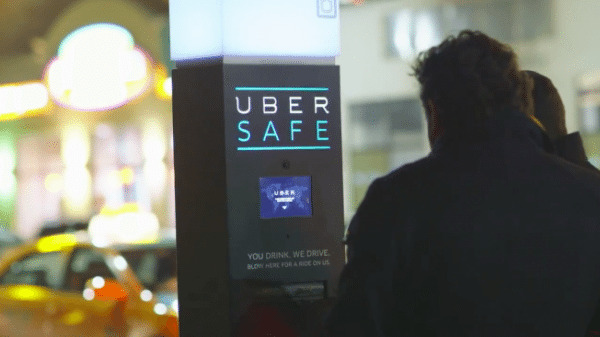 Most people have been a bit too tipsy to take the wheel as some point in their lives. In a genius marketing move, Uber set up a an interactive breathalyzer installation, dubbed "Uber Safe", in downtown Toronto. According to Uber, drunk driving accidents triple after midnight, so the ride share company is doing its part to get Torontonians home safe and sound. In the marketing stunt, inebriated crowds encountered the breathalyzer and curiously stepped up to take the test by exhaling through a straw for six seconds.
In a move I'm sure that taxis abhor, if the breathalyzer discovered that someone was too impaired to drive, then an Uber was summoned right away to whisk them home safely at no charge—an actual instance when it paid to be too drunk to drive.
Uber probably didn't choose Toronto as a random location to pull off this media stunt. The city has a reputation for being unfriendly to Uber's business model and a member of Toronto city council has been calling for the city to ban government employees from using Uber on their smartphones. So, Uber Safe's ability to make the streets more secure and discourage drunk driving, aims to woo Toronto.
Check out the impact of Uber Safe in downtown Toronto and the reactions of drunken bar-hoppers as they find out all of their drinking earned a free ride home.
Source: Mobile Syrup