U.S. Army and Air Force build laser-blasting bomb-disposal vehicle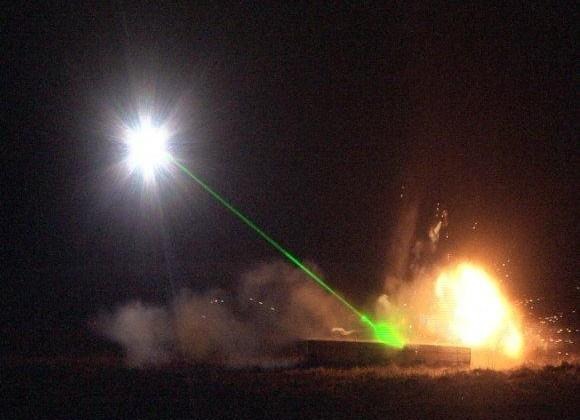 The latest technology from the U.S. Air Force and Army that could head into the battlefield involves harnessing laser power to destroy fields of landmines from a safe distance. The Air Force-built laser will be incorporated into the Army's mine-resistant, ambush-protected vehicles (MRAPs). The specific prototype is known as RADBO which stands for Recovery of Airbase Denied by Ordinance. It's a lengthy moniker, but it accurately describes the missions in which the laser should be used–turning an airfield that is littered with landmines into a usable airbase with as few casualties as possible.
The laser is intense. It's capable of detonating bombs from up to three football fields away. The RADBO vehicle on which it sits also has a robotic limb known as an "interrogator arm" that can move up to fifty pounds of debris using its "manipulator claw."
According to Marshall "Doc" Dutton who is the manager of the program at Air force Civil Engineer Center at Florida's Tyndall Air Force Base,
"We may see hundreds to thousands of small unexploded ordnance items on a runaway or airfield but the RADBO will allow us to reduce the time it takes to get an airfield operational. Currently, if a runway gets hit it can take days to weeks to get cleared. With the RADBO, runways can be cleared and operational at a much quicker pace."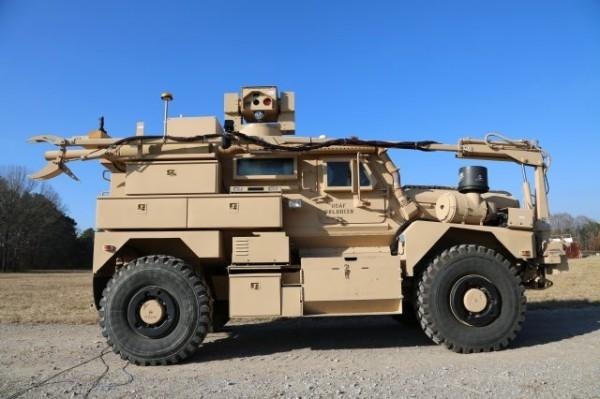 Prior to lasers, the bulk of the U.S. military's bomb disposal techniques revolved around manned exploits like Oscar-winning movie, The Hurt Locker. The laser vehicle is currently still a prototype, but the Army has plans to create 14 more RADBO vehicles after developmental testing is completed.
Source: U.S. Army