TYLT TUNZ Bluetooth NFC speaker and charger Hands-on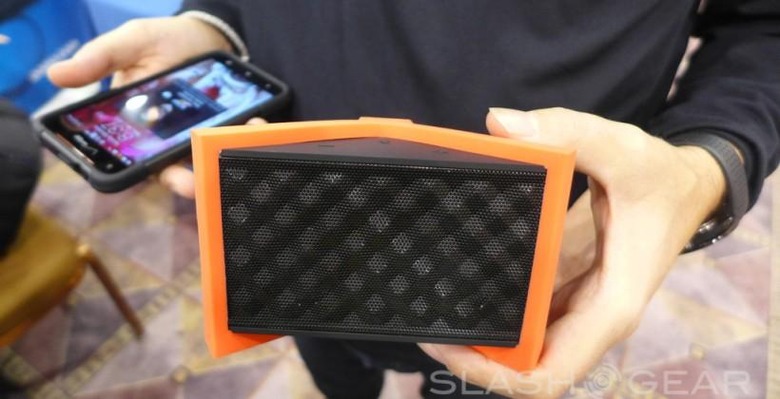 For those looking for awesome and unique accessories for their favorite devices we have another fun one to show you today. Here at CES 2013 we caught up with TYLT, an accessory manufacturer that had all sorts of fun new products on display this year. What we're showing below is their all new TYLT Bluetooth speaker that doubles as a charger and even has NFC capabilities.
TYLT had tons of products on display here, and we'll be showing off more all week long. Their brand new TYLT TUNZ Bluetooth speaker had a few unique features up its sleeve like bass reflex, NFC tag capabilities, Bluetooth, USB 2.0, and even acts as an external charger for those moments in need.
All of TYLT's new products are fun and full of color. Who needs the boring and old white anyways right? The TYLT TUNZ includes three adjustable and interchangeable silicon bands of different colors so you can personalize the look whenever you'd like. Connectivity is as usual via Bluetooth, but also offers the usual 3.5mm audio in, as well as audio out to export sound to a nearby device or TV. Then we mentioned NFC. The TUNZ comes with a free NFC app by Tagstand for easy NFC tagging to instantly play your favorite music and more.
With 30 hours of playback, the 2,500 mAh battery inside also doubles as a portable charger via USB 2.0 to your favorite smartphone. For more details and information you'll want to start by heading here, and TYLT told SlashGear to expect their new speaker to hit the streets in early Q2 of 2013. The expected retail price will be $149, so should compete nicely with other options such as the JAMBOX. Even though the competition doesn't offer the charging feature.