Two AU Optronics executives convicted of LCD panel price fixing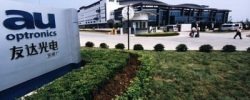 In December 2006, various LCD suppliers were found guilty of anti-competitive practices, and eventually paid $890 million in fines for being caught out. A similar payout happened in December 2011, with five companies, including Samsung and Sharp, having to pay $553 million due to their involvment in price fixing display panels for computer monitors, TVs, and laptops. Now, two executives from AU Optronics have been found guilty of price fixing displays over a five-year period.
You may not have heard of AU Optronics, but they're the second largest supplier of display panels for computers, TVs, and laptops in Taiwan. Business Week reports that the vice president and senior vice president of the company have both been found guilty of fixing prices, and have been convicted of colluding with rivals to do so. The company could face the highest fine yet, reportedly reaching $1 billion.
Executives of the company met with counterparts from rivals in hotel rooms and karaoke bars between 2001 and 2006 in so called "crystal meetings". Oversupply of LCD panels was causing prices to drop by as much of 40%, so the rivals colluded in order to fix prices and maintain profits.
AU Optronics is the only company that has been charged with price fixing. Previous cases saw companies like LG and Sharp plead guilty and pay fines instead. The individual executives are facing a fine as high as $1 million, as well as up to ten years in prison. AUO, meanwhile, say they will appeal the verdict, saying that the evidence in the case was "distorted and incomplete".