Twitter's desktop redesign is here, but you still can't edit tweets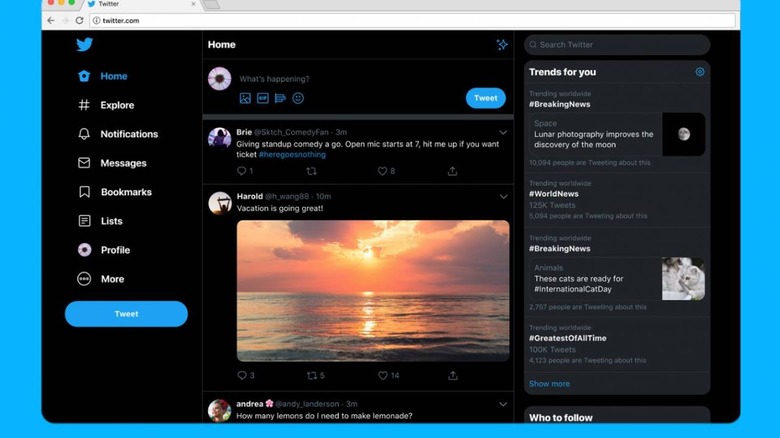 For a while now, Twitter has been testing a redesign that's meant to bring the desktop experience more in line with how the service appears on other platforms – namely smartphones. Today, that redesign is rolling out to everyone, complete with a hefty helping of new features Twitter users will want to know about. Unfortunately, the ability to edit tweets is not one of the new features shipping along with this update, so those of you who have been waiting for that functionality will just have to wait longer.
Talk of one day being able to edit tweets is something that crops up from time to time, and for years, we've been hearing rumors claim that it's a feature Twitter is thinking about implementing. Maybe someday in the future we'll be able to edit our tweets, but for now, we'll just need to continue proofreading those tweets carefully lest we unintentionally create alternate spellings for words like "coffee" and "burger."
Woah, what's this? A shiny new https://t.co/q4wnE46fGs for desktop? Yup. IT'S HERE. pic.twitter.com/8y4TMzqBGa

— Twitter (@Twitter) July 15, 2019
In any case, there are still plenty of new features to look out for once you begin seeing this redesign. To start with, Twitter has brought its Explore page over to desktop, so that means more live video and localized tweets, along with easier access to your Top Trends.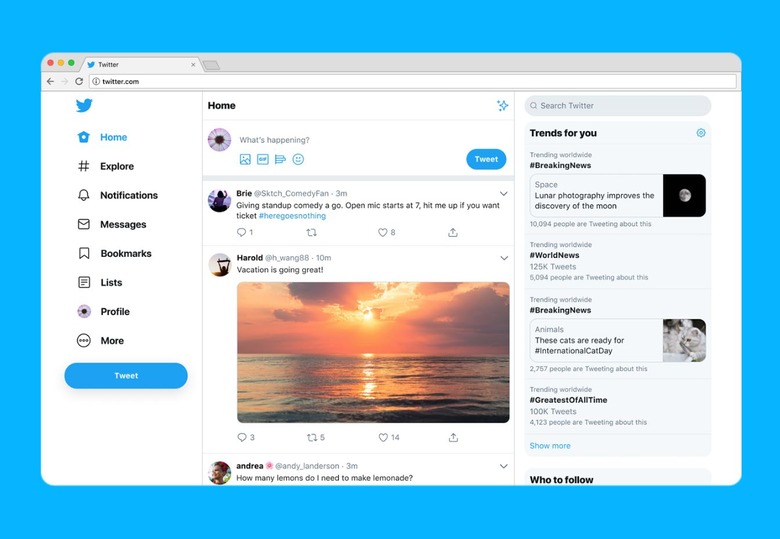 Shortcuts to Bookmarks, Lists, and your Profile have been added to the navigation sidebar, so those are only a click away, and Twitter has put everything involving Direct Messages in one place, which means that you can now view conversations and reply to messages without having to switch your view. Speaking of switching things up, Twitter has also added an account switcher feature, so if you maintain multiple accounts, you can jump between them without needing to play the logout game first.
Finally, Twitter has rolled out support for themes and different color options, including two dark mode themes: Dim and Lights Out. For some, dark mode is probably the most exciting thing about this update, so if you count yourself among that group, you can check it out by clicking on "More" in the sidebar and then clicking "Display." It looks like this might be a phased roll out, so if you aren't seeing the redesigned site right away, just sit tight.