Twitter lands on iPad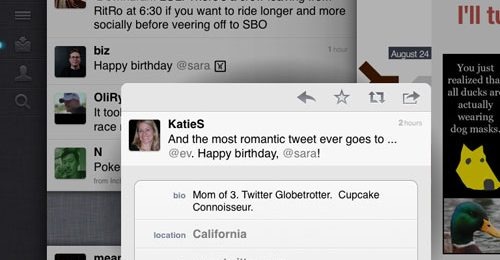 If you are one of the hoards of people who love Twitter and Tweet just about every aspect of your life you will be glad to hear Twitter is heading to the Apple iPad. With the popularity of the iPad, we all knew this was just a matter of time. The Twitter for iPad app is now available on the app store for you to download.
Twitter for iPad uses the touch interface of the tablet to allow the user to move information quickly and easily say Twitter. The user doesn't have to open or close windows or click buttons. Features of the app include Panes where you can tap on panes in the right and see the content in the Tweet such as video or a photo or any other content.
The panes can be navigated by swiping left or right. When the user taps a video link or opens a webpage with embedded video that video can be played inline. The app also supports gestures for navigating the content like pinch to view author details, pulling down with two fingers shows comments on a tweet and more. The app doesn't require the user to sign up to use, you can download and use the app even if you are more a lurker than a Tweeter.