Twitter Brings A Conversation Focused Update To The iPhone, Android And Web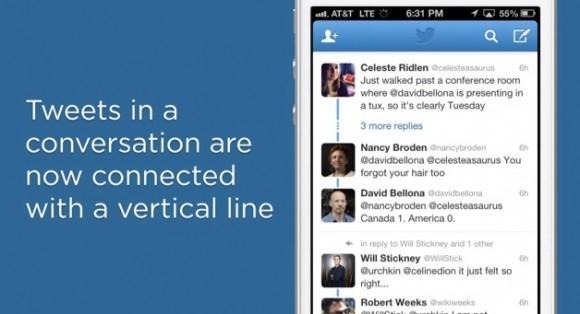 Twitter has announced a conversation related update today. This one is being released for the Twitter.com website as well as the iPhone and Android apps. The short version here is that conversations should now be easier to follow. And as a side effect, easier to join in on should you have something to say on the topic.
The tweets included in the conversation will now be in sequence and connected by a vertical line. That vertical line will connect up to three tweets from the conversation and anything extra will be accessible with the "more replies" link found within that conversation thread. A tap will open up to show the full conversation and also bring the option to add your two-cents.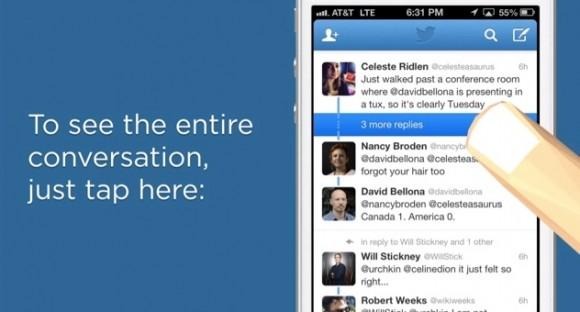 This setup will be rolling out to users beginning today and will likely be noticed when you see the new lines connecting certain user icons. This update also brings the ability to email an entire conversation to friends (or to yourself) by way of the Twitter website. Those using the Twitter app on the iPhone or Android device can also share individual tweets over email and Android users can also share them by way of a direct message.
Twitter.com and Android users will also be able to report individual tweets for abuse or spam. This feature is said to be "rolling out gradually" and is one that has already been available for those using Twitter on an iPhone. Last up in terms of the changes for Twitter today deals with Android handsets. Specifically, entry-level Android handsets with limited storage.
Basically, the Twitter app has been reduced in size. Details mention how the app is now "less than half the previous size" and that should make it both faster to download and easier to install. And moving forward the folks at Twitter have promised to bring additional improvements that will benefit those sporting an entry-level Android handset.
SOURCE: Twitter