Twitter blew up in the final 3 min of the Super Bowl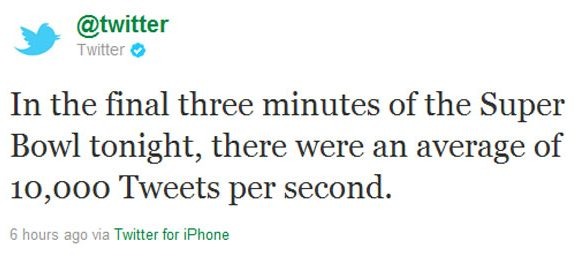 By any measure, Twitter is a very popular social networking/microblogging website. Millions of people around the world use Twitter every day to share things as mundane as what they had for breakfast to important business details. Twitter has in fact been beefing up its support for corporate pages by allowing companies more customization with the rollout of more enhanced pages. Something else that Twitter has been used for by more and more people is to share news of current happening events in real-time.
Twitter has released one very interesting statistic. An official tweet from Twitter has announced that during the final 3 minutes of the Super Bowl there was an average of 10,000 tweets every second. That's an insane number to me 600,000 tweets in a minute and over that three minute span 1.8 million tweets were made.
I wonder how many those tweets were from Patriots fans bemoaning the impending loss by their favorite team. It would be interesting to know how those tweets were made be it from smartphones, tablets, notebooks. I would imagine the vast majority were made via mobile phones.
[via Twitter]