Twitch debuts Choice Chamber, first game encouraging viewer interaction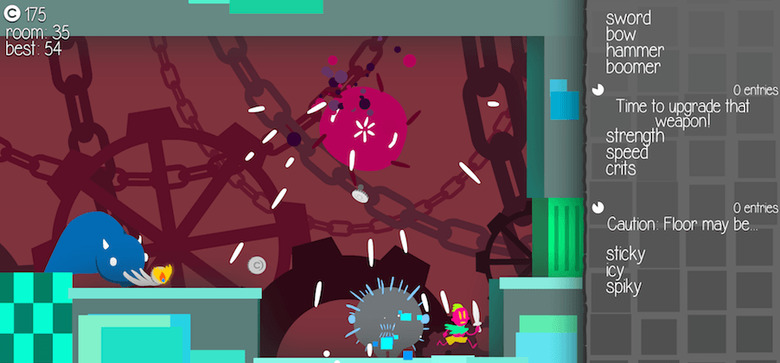 Studio Bean has just has just released the first game that uses Twitch's interactivity features as a primary feature. This project was funded in part by Twitch through KickStarter. At its core, Choice Chamber is a basic 2D side-scrolling game, throwing enemies and environmental hazards at players. But where things get really mixed up is in the fact that anybody watching the broadcast who can make live comments can have a direct impact on how the game unfolds.UPDATE: This article previously suggested that Twitch developed this game when it was actually "Studio Bean." Twitch's role was to contributing money to their Kickstarter to help bring the game to final fruition.Choice Chamber's levels are procedurally-generated, much like the world of Minecraft. That means there is no pre-set environment that will come as the player progresses. Viewers have the power to either help or hinder the player, with things like deciding what weapons or powers the player will have, or affecting the environment, like setting everything on fire, for example.
The possibilities really are endless, especially when taking into account the fact that not all viewers may agree on how to affect the player's game. It's one of the first, and quite possibly the best, example of really getting viewers involved in playing the game with the Twitch broadcaster.
Choice Chamber is available now on Steam, and to celebrate the launch, developer Studio Bean is running a contest available to all who play. Players need to make a highlight reel of their run through the game, and share it on the game's website. There will be four winners in the end: the first player to complete the game, the first to finish the game the fastest, the player who gets to the highest room number, and whoever earns the most money.
Those who win will be treated to two very cool prizes: a statue will be built in-game to honor them, and developer Studio Bean will create a personal game just for them. The contest closes on July 19th, so either go play, or start creating mayhem for someone trying to play!
SOURCE Twitch