Twilight Umbrellas keep you dry; brighten up the night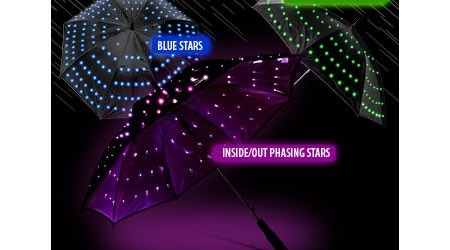 While there are plenty of "fashion-minded" umbrellas out there, most people just buy a cheap umbrella that opens and closes without error and will keep them relatively dry on rainy days. But if you're looking for something that offers a bit more, the Twilight Umbrella might be more your style.
Twilight Umbrellas aren't new, but they have been updated a bit and the lights have been moved around a bit. There are three different umbrella styles now that serve up combinations of lighting outwards or lighting the underside of the umbrella to offer a more stylish way to keep out of the rain.
The Blue Stars Umbrella remains blue and has fiber optics on the top of the umbrella. You can purchase it for $31. The Color Phasing Stars Umbrella, rotates through five different color combinations and shines out the top of the umbrella for all to see. It costs $34. Finally, the Inside and Out Phasing Stars Umbrella phases through five colors on both the outside and the inside of the umbrella. This last model costs $43. Pretty pricey for an umbrella, but you're certain to make a statement with them.
[via Coolest Gadgets]