Tweeted bomb threats ground two Atlanta-bound flights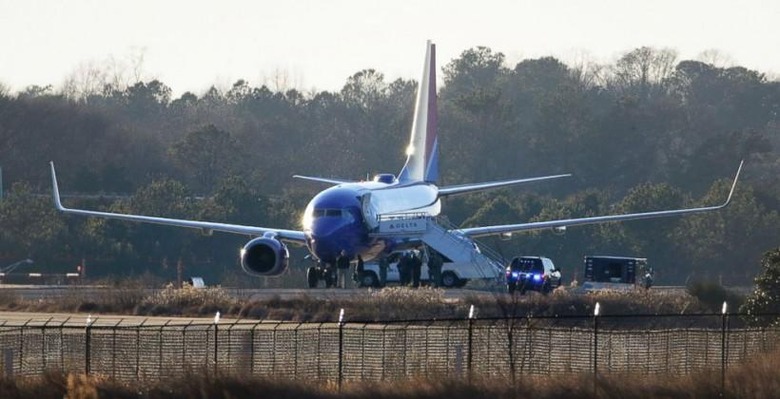 Two U.S. passenger flights bound for Atlanta were grounded and searched for bombs after threats were made via Twitter from the account @kingZortic (now suspended). Delta flight 1156 and Southwest flight 2942, from Portland and Milwaukee, respectively, were already in the air when the threats were made. Both planes were escorted by F-16 fighter jets to their landings, and were found clear of explosives or weapons after searches from authorities, while all the passengers were unharmed and safe when exiting the aircrafts.
This all took place on Saturday afternoon, with parts of Atlanta airport being shutdown following the threats, including the runway where the planes landed. As of now all flights and operations have returned to normal.
The Twitter account that made the threats only had the name of "Zortic." The user tweeted to the @DeltaAssist account, writing "I have a bomb on one of your planes, but I forgot which one when I left the airport. Can you help me find it?" The exchange between accounts continued through several messages, with the unknown user referencing flight numbers that eventually matched that of a Delta flight headed for Atlanta.
The @kingZortic user went on to tweet similar threats to Southwest Airlines. Among the tweets were messages that said "A bomb was placed on SWA2492, it will be detonated at a random time of my choosing," later followed by "If anything happens to me I'll make sure that more flights are targeted. I strongly suggest you don't try anything stupid."
Somewhat odd was how he also posted a Chicago address, claiming it was his and daring authorities to conduct a raid. Another tweet simply said "The only thing that will happen is my Twitter getting suspended. I'm untouchable always have been."
The FBI and police have only confirmed that bomb threats were made towards the flights via Twitter, but haven't said anything about the user responsible for the messages. A spokesman for Atlanta airport told the press that they "believe the threats to be credible," when speaking about the flights being grounded and searched, however he did not explain exactly how or why they determined the threats to be valid.
VIA Mashable
SOURCE AP