Turtle USB 2.0 Hub sports hidden compartment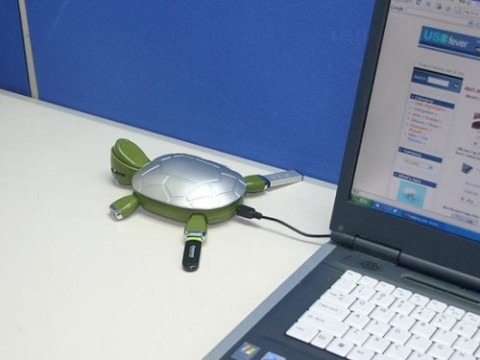 I'm a sucker for cute little office gadgets. They're often cheap and supremely cheesy, but I just can't help myself. Take this Turtle USB 2.0 Hub, for instance. Sure, it's a pretty standard USB hub on one hand, but on the other, it's a cute little turtle. I mean, come on. Who can resist that?
 What makes this hub normal and pretty mediocre are its specs. Featuring 4 USB 2.0 ports, this gizmo can power up your peripherals in a jiffy. But what sets this one a part is its unique look. What's especially fun is the fact that its legs are the ports.
Designed to look like a turtle, this USB hub makes for a cute accessory for your desk that's both practical and nonintrusive. However, it also has a little hidden compartment on the top that you can use to store really small loose items on your desk like paperclips. You can get the Turtle USB 2.0 Hub now for $13.99.
[via Slippery Brick]