Tumblr rolls out instant messaging on web, mobile for select users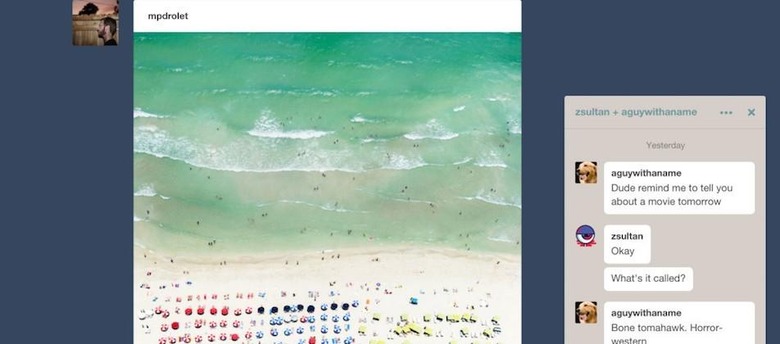 Tumblr has just debuted something new for both its website and mobile apps: a true, honest-to-goodness instant messaging feature, allowing private conversations between users. The live chat function is a bit limited right now, with no support for emojis or media like gifs and images, much like when Gmail first introduced chat to the inbox many moons ago. Oh, and Tumblr is also gradually rolling out the feature to a limited number of users, so don't be surprised if you don't have it yet.
But the way access to the messaging feature is being distributed is kind of neat. Describing it as a "viral" approach, 1,500 users are able to use it, with each person that they message unlocking it as well, and continuing on in the manner. Fortunately Tumblr's announcement of the feature mentions that all users will be given access in next few weeks.
As for features, Tumblr says that support for gifs, media, as well as group chats is on the way. Messaging also works on the iOS and Android apps, but private and group blogs can't. Once the feature is available for a user, by default they can message with/be messaged by any account, but they can change the settings to only allow messages from the blogs they follow.
Tumblr acknowledges that their take on instant messages isn't intended to compete with the big, stand-alone messaging apps and services, but is rather meant to meet users' requests. In addition, Fan Mail, the previous tool Tumblr had for users to communicate privately, will be retired in favor of the new instant messages.
SOURCE Tumblr