Tumblr rebuilds native iOS app, adds new dashboard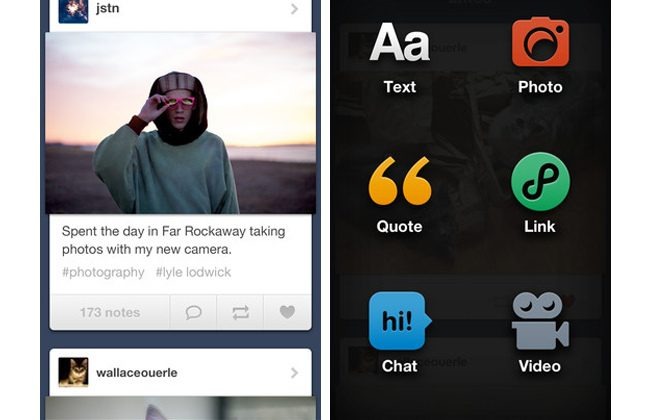 Tumblr has gone all-out with the latest iteration of its app for iOS, version 3.2. The mobile app is now completely native, and brings with it a new Tumblr Dashboard, as well as a host of other features. Users can now update and manage their Tumblr blog from their iPhone in a faster and more responsive way.
New features include, primarily, the completely new dashboard, which makes it easier for users to get into the task at hand without hassle. Photos are bigger, while overall loading speed is faster and the app is more responsive. There are new notification previews, which offer more detailed information, as well as "new blog screens with blog portraits and descriptions."
Flipping your way through menus and items is easier now with new gestures. Users can swipe their finger right across the screen to return to the previous item, as well as long tap links, headers, photos, and tags to pull up a menu of more options. Finally, GIFs now play automatically in the dashboard, with a frame-by-frame view option by swiping your finger across the image.
Users can grab the newest app via iTunes or their mobile device. It supports iPhone 3GS/4/4S/5, 3rd/4th/5th generation iPod Touch, and the iPad, and requires iOS 5 or later. In addition, it has been fully optimized to run on the iPhone 5, so you won't have any niggling issues over the new iPhone's larger screen size.
[via Venture Beat]