TufTab - The rugged tablet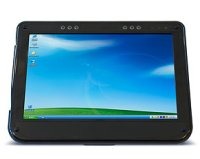 The great thing about mobile devices is that you can take them just about anywhere. Unfortunately, that mobility can also work against you; the more you carry something around, the more opportunities you have to break it. Fortunately companies like Tablet Kiosk build their systems to take a beating.
Their latest product is touting the title of 'most rugged touch screen tablet PC.' It can withstand rain, dust, humidity, extreme temperatures and vibration. The 12.1" widescreen display is bright enough to be seen even under bright sunlight. Though it doesn't exactly pack the most power, with only an Intel Celeron clocked at 1.0GHz.
The Sahara TufTab won't wear you out from carrying it around, as it weighs less than 4lbs. You can pick one up with Windows XP or SUSE Linux starting at $2,099.
Sahara TufTab brings ruggedness to tablet PCs via [coolestgadgets]