Tt eSports unveils Shock Gaming Headset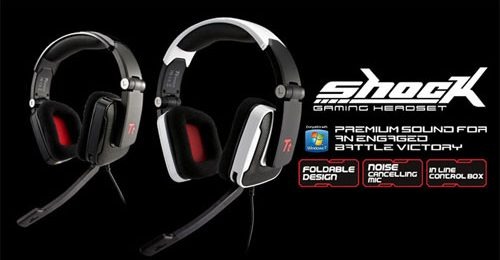 Tt eSports, a division of Thermaltake, has unveiled a new set of gaming headphones for PC gamers looking to play with professional grade gear. The new headphones are called the Shock Gaming Headset. The headset has some nice features to make it work well for gaming and be very portable.
The headset has a design and hardware optimized for playing FPS, MMORPG, and RTS games. The headphones have a noise-cancelling microphone that reduces background noise so that other players can hear your voice. The headphones have inline volume controls and a mic that can be muted from the inline control.
The headset is a plug and play USB device that you can just plug in and go. You don't have to crawl behind your machine searching for the correct inputs to connect. The headphones have stereo sound and are foldable for transport. The Shock will launch in October at an undisclosed price.