Try not to dance as DJ spins a set using Apple Watch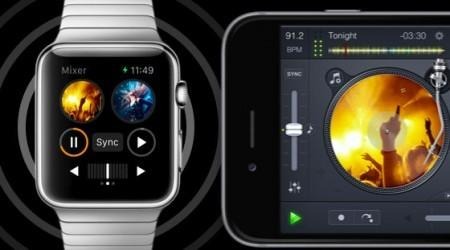 Algoriddim's DJ app, Djay has finally accomplished the insurmountable–making it possible to DJ from a smartwatch and to cool look while doing it. Djay introduced Apple Watch integration to its iOS app practically as soon as Apple Watch was released. The thought of DJing on a watch face sounds impractical, but as an auxiliary tool in a skilled DJ's arsenal, it's just another way to manipulate sound. In the video below, you can see a DJ control his set from Apple Watch. Like a cowbell mounted on a drum kit, it looks cool, but overuse can lead to an obnoxious set.
The user spins under the moniker DJ Ravine, and he upload his entire "set" to YouTube, so we can see the spinning process as he goes back and forth from Apple Watch to iPhone mixing the beats. The spinning session was recorded on a plane with a GoPro. I can't help but wonder what the guy sitting next to him was thinking while this was going on.
The Apple Watch version of Djay lets you do a lot more than the tiny screen would suggest possible. You can select and control two songs at once, fading and synchronizing them back and forth. You can also make loops and add effects from the compact watch face.
The app syncs whatever actions are carried out on Apple Watch with your iPhone; so, although you can spin from your wrist, it's more of a remote control as the computing is done on the smartphone. More detailed controls are found on the Djay iPhone interface. While, in the video, DJ Ravine is technically spinning with his Apple Watch, his set would sound a lot blander if it wasn't for his iPhone.
You can download Djay 2 by algoriddim for iOS and watchOS at the App Store here.
Source: Twitter