Trumstand iPhone dock uses a horn rather than electronics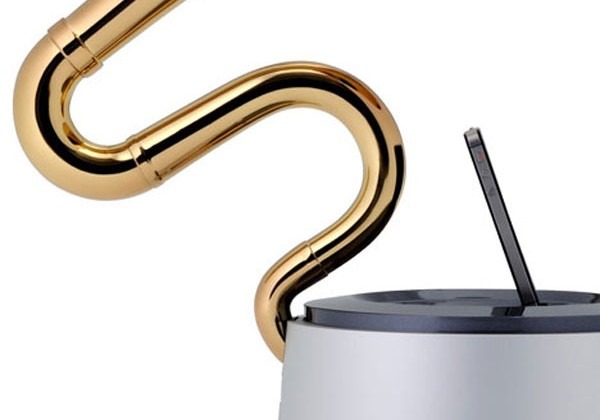 We talk about a lot of iPhone speaker docks around here, and generally, they are crammed with digital amps and other electronic whatnots. This iPhone stand is different because it is an acoustic stand with no electronics that uses a horn like some sort of demented trumpet to increase the sound from your iPhone. The device is called the Trumstand.
You slip your iPhone into the dock holder, and that s-curve tube picks up the music from the speaker on the bottom of your smartphone and shoots it through the bends until it comes out of the horn opening like an old crank record player. There are two versions of the Trumstand with one offering gold plating and the other in sterling silver.
I would like to hear this and see what it sounds like. The s-curve in the design is supposed to increase the bass output of the music. The device is made in Japan by a firm called Pleiades. What do you think about this, would such a strange design sound good?
[via Core77]