True GPS Finally Available For The Sprint Mogul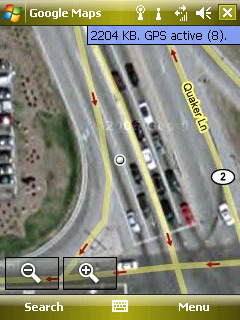 I was one of the first people to buy a Sprint Branded HTC Mogul, and one of the things that made it so attractive at the time was the promise of a free Rev. A upgrade and true GPS...one day. Well it looks as if the day recently came for those still using their Moguls, and although I am no longer one of them, all that's left is to hear how well it really works.
Joel at Geek.com has written about the experience of upgrading his Mogul to EV-DO Rev.A, which he said brought a "a much needed speed increase for both download and upload."
The other benefit was, as the Sprint press release put it, the enabling of "advanced GPS functionality allowing support of popular applications such as Sprint Navigation. Sprint Navigation provides audio and visual turn-by-turn directions, more than 10 million local listings, and one-click traffic rerouting on compatible phones, similar to an in-vehicle GPS system."
Joel started by downloading Google Maps for Windows Mobile, and was properly impressed when his Mogul showed a dot in the "part of the house that [he] was actually sitting in."
Testing ensued when he left the house for a drive, and his Mogul was able to track his progress in real time. Trouble aro
se when he demanded real-time directions from Google Maps. Evidently the program didn't "automatically advance [him] to [his] next direction point and instead required [him] to step through it manually."
Bummer.
Perhaps improved real-time directions will be better implemented in a future Google Maps update, but in the meantime, Joel is enjoying "having one device that can serve as a mobile phone, an Internet tablet, a music and video player, and now a useful GPS."
[via Geek.com]