Trimble offers iPad Backpacker Map Maker app for iPad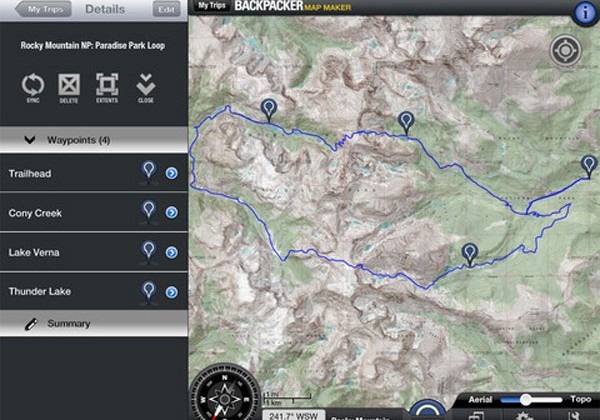 Trimble is a name that many outdoors enthusiasts will know. Trimble makes a bunch of different handheld GPS devices to help you navigate in the woods or on the trials. The company has a new app for the iPad that is called the Backpacker Map Maker app and is specifically for the iPad. The touch interface of the app allows the hiker or backpacker to find just where they want to go using seamless topographical maps.
The app offers maps for the US and Canada and allows them to view, create, and annotate maps right on the tablet screen. It also offers aerial, hybrid, street, and terrain maps. Access to over 68,000 USGS topo maps that are stacked together and enhanced in MyTopo mode is included. A wealth of other features makes this a very useful app.
It has place search to find campgrounds and peaks. Dual maps let the user turn on dual map mode for precise trip planning with street maps and topo maps on screen at once. The trip plans can be saved to the cloud, waypoints can be marked, and has a ruler tool, and a digital compass. The app also offers GPS coordinates. The app is free for the next seven days and then it will be a paid app.