Trendnet TEW-687GA 450Mbps Wireless N Gaming adapter surfaces at CES 2011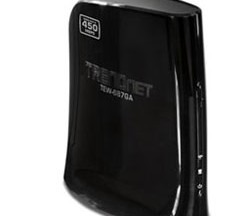 When it comes to wireless networking Trendnet is one of the companies that is always offering up new products for geeks to take advantage of for fast networking sans wires. The company has unveiled a new wireless adapter at CES 2011 called the TEW-687GA that is designed for networking all sorts of gear from TVs and DVRs to game consoles at fast speeds.
Trendnet says that when this adapter is paired with its TEW-691GR router it is capable of 150Mbps of real world performance and sustained transmissions in burst above 200Mbps. The device also has a wired Gigabit Ethernet port for local machine connectivity. It uses advanced MIMO antenna technology and has three spatial streams per antenna.
The wireless adapter supports Wi-Fi Protected Setup to make setting up protected networks with compatible gear a snap. The adapter will hit retailers later this month according to Trendnet for $149.99.