Trendnet TEW-664UB 300Mbps dual band wireless N USB adapter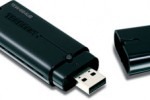 Speaking of a dual band wireless-N gimmick, I still got bad taste in mouth dealing the supposedly one of the best Linksys's WRT610N. Though the device has received great reviews with terrific transfer rates, but the only way to get the connection stays is dropping the 5Ghz spectrum, what's the point? Oh wait, this post is not about Linksys's router, is Trendnet dual band wireless N USB adapter.
Trendnet has today announced an immediate release of its new USB TEW-664UB 300Mbps dual band wireless N adapter. The dual band N technology in the Trendnet supports selectable 2.4GHz for low bandwidth clients or uncongested 5GHz discrete high bandwidth wireless signals, which includes 802.11b, 802.11g or 802.11n standard networks. Additionally, the unit provides easy setup process, advanced MIMO technology antenna and encryption system to ensure a secure connection.
The 300Mbps Dual Band Wireless N USB Adapter supports MAC, Windows and Linux systems and will be available at the retail price of $59.99.