Trendnet launches Powerline 200 AV Nano Adapter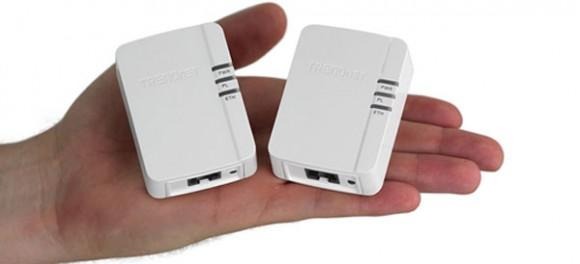 Trendnet is a company that is heavily into the home networking market. The company offers a number of wireless routers allowing users to get Wi-Fi access all around the home. If Wi-Fi won't work inside your home or doesn't have the range to reach everywhere you need it to, Trendnet also has a wide variety of powerline networking equipment.
This powerline networking equipment uses the electrical cables in the walls of your home to transmit data without any interference. The problem with many of the powerline networking adapters is that they're so large they tend to block an entire outlet. Trendnet has announced the launch of its new Powerline 200 AV Nano Adapter.
The new powerline adapter is available as a single adapter, model number TPL-308E, and as a nano adapter kit, TPL-308E2K, with a pair of the adapters. These adapters are designed specifically to have a compact form factor, saving space around crowded outlets. The devices are about half the size of standard Powerline 200 adapters.
The adapters are secured and encrypted right out-of-the-box. Connecting additional outlets to the network using more adapters is as easy as pressing a single button to change the default encryption keys. The adapters also support Power Save mode to reduce power consumption by up to 70% when the adapters are idle. The nano adapter kit with a pair of the adapters is available for $74.99. A single adapter will sell for $39.99.
[via Trendnet]