TransferBigFiles offers free iPhone app for doing what the name says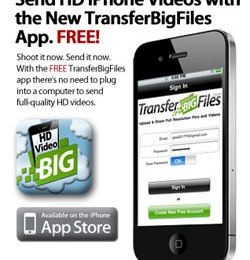 Any iPhone user who makes HD video recordings on their device knows that it can take forever and is sometimes impossible to send large HD video files to other people directly from your device. A company called TransferBigFiles has announced a new service and applications for iPhone users that makes sending large files easy.
The application is free and is on the App Store right now. The company says that the first 100,000 people who activate the app will get 5GB of cloud storage for their files free. After the first 100,000 users, those that register will get 2GB of storage space.
Once installed and activated the app lets the user transfer large files and receiver large files from anyone using the browser on the iPhone or on a computer. The files can be sent wirelessly in their original resolution without having to reduce the quality of the video. The desktop service is similar by can cost up to $15 per month. This sounds a lot like YouSendIt to me.