TransDock Deluxe From DLO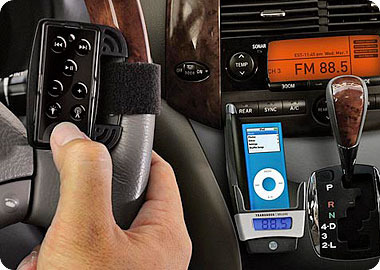 In my Toyota 4Runner, my steering wheel has a remote that controls my car's audio system volume, however it does not control my iPod which I docked in my car. TransDock Deluxe, an iPod accessory that works as a Dock for your iPod and equipped with a remote control that you can strap to your car's steering wheel.
It feature video output to allow you to connect your iPod to in-car LCD with the included AV cable and an FM transmitter to broadcast your music over your car's FM stereo. The cradle will also function as the iPod holder dock and charger.
The TransDock Deluxe available immediately and retails at $129.99. I think this is one of the iPod accessories that I will put my money on.
[via DLO]