Transcend T.sonic 840 DAP Is The Turtle That Won The Race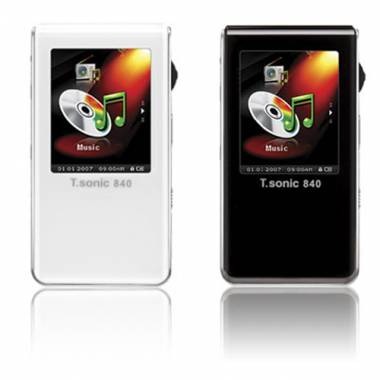 Sure it doesn't have near the feature list of a Zune (it does still do a lot though), but unlike your Zune it'll crank out music for up to 30 hours, beat that. There are four key battery-sucking features that this thing lacks compared to the Zune.
The first and second are the lack of either of the radios the Zune has (wifi and FM). The third and fourth are a smaller 1.8" screen and no video support, that means the screen requires less power to run because it doesn't require the resolution to play movies, and it won't be on all the time like when playing videos.
Enough about the power saving differences, let's talk about what it does have. Support for MP3, WMA, WAV, WMA-DRM10, JPEG, and BMP file extension support. It also does karaoke, text docs, and digital voice recording with variable speed playback. It also supports 13 languages. The device is available in 2 and 4 gigabyte models. Neither are currently available domestically, however where they are available they are going for converted prices of $125 and $167 respective to their capacities.
Transcend T.sonic 840 MP3 Player [via fareastgizmos]